The Awesome power of Google, Explained
Famous for its search, e-mail and YouTube video sharing, Google has quietly and relentlessly turned itself into the first super-carrier of the Internet era.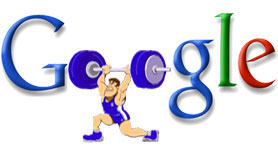 The global search market continues to grow at an extraordinary rate, with both highly developed and emerging markets contributing to the strong growth worldwide. Search is clearly becoming a more ubiquitous behavior among Internet users that drives navigation not only directly from search engines but also within sites and across networks.

Americans account for 22.7 billion searches, or approximately 17% of all worldwide searches. Factor in the search growth in countries where consumers are just now getting wide access to both computing and broadband, and it's easier to see how search grew at nearly 50% from 2008 to 2009.

Google lived up to its reputation in 2009, accounting for 66.8%, or 87.8 billion, of all searches. Yahoo came in second with 9.4 billion searches, which was an increase of 13%. Chinese search engine Baidu accounted for 8.5 billion searches, up 7% over the year-earlier period.

The graph below shows the weighted average percentage of all Internet traffic contributed by Google ASNs between June 2007 and July 2009. Most of Google's rapid growth comes after the acquisition of YouTube in 2007.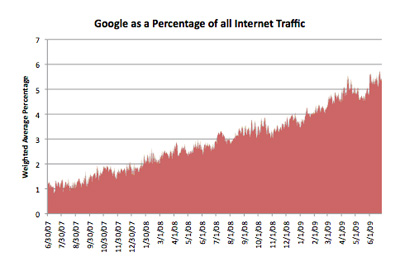 The competition for Internet dominance is now as much about infrastructure, raw data center, computing power and about how efficiently one can deliver content to the consumer.
Here again, Google is at the head of the pack.
What next, you may ask. Here is a sneak preview.
Google's 'Fiber for Communities' initiative boasts Internet speeds of more than 1 gigabyte per second, more than 100 times faster than most connections available today!
Send your comments to
sharad@cyber-gear.com