No Clicks Required: A Glimpse Into The Future
Change is the only unchanging parameter in the internet industry
It was Steve Jobs in 1984 with the release of the Macintosh who turned the world onto clicking. There is now a new flash based technology that is going to change the way we browse the web. In this interface there are no navigation buttons. No clicks required. Just navigate your way, intuitively.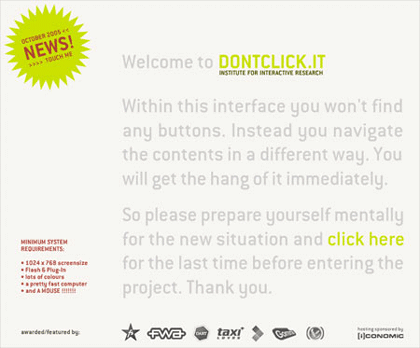 Welcome to www.Dontclick.it

The site has received north of 800,000 unique visitors thus far.

Here are the highlights: First, the mouse with a button(s) may soon become history. Just like punched cards!

Second, you are now entering a button free world with a new graphical interface. A novel web experience.

Thirdly, your movements on the site are being recorded for tracking browsing pattern.

Finally, this is for now JUST AN EXPERIMENT (by Alex Frank in Germany) on human computer interaction. Waiting to be commercialized.

View a video review at http://www.5min.com/Video/WebReviewTv---E3---Dont-Click-It-75891204

Here's my take:

"The brain does have to make a decision to click. If your interactivity does not require this step, you can create a much more engaging and fluid experience."

No compensation for 'click addicts' suffering from 'click mouse' withdrawal symptoms is offered!

Send your comments to sharad@cyber-gear.com.