2010: Go Green with Eco-Friendly Gadgets
2010: Go Green with Eco-Friendly Gadgets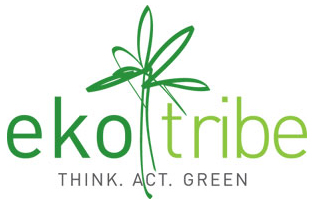 Ekotribe.com was started with a desire to introduce green living. Ekotribe offers environmentally-friendly products that have been carefully selected to give you the ability to live a green and positive lifestyle.

Ekotribe range of products include green gadgets and appliances, solar lights, reusable gift bags and shopping bags, recycled paper and stationery, eco-friendly shower heads, eco-friendly toys, green books, BPA-free water bottles and lunch boxes, soy candles, organic beauty products, organic table linen, eco-friendly wallpaper and wall stickers, solar powered totes, solar powered backpacks, bamboo kitchen ware, eco-friendly household cleaners, biodegradable tableware and organic pet products.

Ekotribe strives to offer high quality products that are either - Biodegradable, Environmentally safe, Handmade, Natural, Recycled, Recyclable, Reusable, Sustainable or Organic. We are promoting a lifestyle that includes being aware of the environment, yet enjoying high-end products without forgoing quality & design.

While global warming is a global problem, Ekotribe believes that all individuals can make a difference in solving the problem collectively.

Ekotribe has sourced some of the best 'eco-friendly' products from all over the world to ensure that you can use them in your daily life - at home and at work.
Ecobutton Energy Saving Gadget

The ecobutton acts as a strong visual reminder and prompt for you to save electricity each time your computer is going to be left idle. The ecobutton is illuminated and sits on your table/desk top next to your keyboard. It connects to your computer via a USB cable.

Each time you take a short or long break, a phone call, go for a meeting etc. you simply press the ecobutton and your computer is put into the most efficient energy saving mode available.

The ecobutton works with any Windows operating system on a standalone computer.

USBCELL Re-chargeable battery

Each year, 15 billion batteries are made and disposed of which is the equivalent to a column of batteries to the moon and back.

USBCELL is the ultimate eco-friendly battery. It is tested up to 500 charge cycles to guarantee optimum reusable performance. This NiMH AA cell can be used in normal battery applications and can be recharged simply by plugging into a USB port.

SOLIO Solar Charger

Solio, the Universal "Hybrid" Charger is powerful enough to charge all of your handheld electronic products at home or on the move, anywhere under the sun.

Solio is a Hybrid because it can accept power from either the sun or the wall storing this energy within Solio's internal rechargeable battery. Solio then uses this energy to power your gadgets at the same rate as your wall adapter. Solio will also hold its charge for up to a year.

Solar Laptop Charger Briefcase

The Voltaic Generator is the first solar bag powerful enough to charge a laptop. This solar laptop charger has high-efficiency cells and includes a battery pack custom designed to efficiently store and convert the electricity generated. It will also charge cell phones and most other hand held electronics.

Solar panel generates up to 15 watts using 20% efficient cells, enough to fully charge the Voltaic battery in about 5 hours. The included battery pack stores the equivalent of a typical laptop charge and automatically delivers the required output voltages. Common adaptors are included for connection to laptops, phones and other handheld devices.

Fabrics made from recycled PET (soda bottles), which is tough and water resistant.
For more information, visit www.ekotribe.com.
Send your comments to sharad@cyber-gear.com