Stay Connected with Twitter
Stay Connected with Twitter
A social network is a social structure made of individuals or organisations which are connected by one or more specific types of interdependency, such as friendship, kinship, financial exchange, dislike, relationships, beliefs, knowledge or prestige.

One of the most important questions I am asked at various online seminars is, "What is the BIG deal about Twitter?"

The answer is simple. Just look at some facts:

Registered users – 25,000,000

Inbound links on the web – 486,750,806

Monthly visitors – 19,728,619

Alexa Ranking – 19

The popularity of Twitter with respect to other social networking sites is as follows: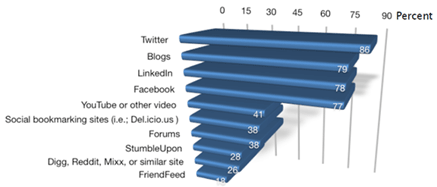 If all of above is not good enough reason, then view the successful case studies of organisations that have used to Twitter to profit. Visit
http://business.twitter.com/twitter101/case_dell
Send your comments or case study to
sharad@cyber-gear.com
. I tweet at
www.twitter.com/gogreenae
.