TigerText: Cover Your Tracks
Tigers are notoriously difficult animals to track. TigerTexts are difficult to track as well!

A new iPhone application called Tiger Text eliminates the possibility of damaging evidence being left behind by erasing text messages from recipients' phones.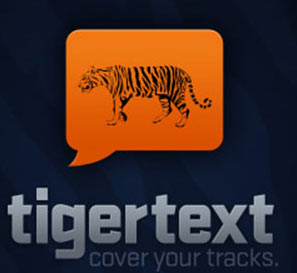 When you send a regular text message, the message is sent from your phone, routed through a server, and then delivered to the recipient's phone. The message you send will live on the receiver's phone until the recipient decides to delete it. The text message will also reside on the cell phone company's server for an unlimited amount of time. TigerText is different because, even though it looks and feels identical to a normal text message, the content of your message is never sent to the recipient's phone and you control when the message is deleted from our server so you control the lifespan of the message!
According to the the app's creator, Jeffery Evans "People text like they talk. And some of the things they say, taken out of context, can come back to haunt them."
A sender using the Tiger Text application can set how long they want the message to stay on a recipient's phone before it is deleted for good.
Users can also choose a "delete on read" setting, giving people a set time to look at the text before the message self-destructs, "Mission: Impossible" style.
What if I send a TigerText to someone who does not have TigerText installed, you might ask?
Well, the user will receive a message from TigerText that encourages them to install the free reader. Once the free reader is installed, the user can read any message you send. Both users must have TigerText in order to communicate through the platform.
The Tiger text application is now available for download for iPhone and Blackberry users at
http://www.tigertext.com
. TigerText currently works on the iPhone, iPod Touch and newer Blackberry devices. On Blackberry, TigerText supports the Bold 9700, Bold 9000, Tour 9630, Curve 8500 & Curve 8900 Series. TigerText does not currently support the Storm, older Curves, Pearl, or other Legacy Blackberry Devices.
Send your comments to
sharad@cyber-gear.com
.