Cyber Gear Launches DubaiHotelsGuide.com
(20 June 2017)
Cyber Gear has launched DubaiHotelsGuide.com which has a wide selection of hotels that visitors to Dubai can book online.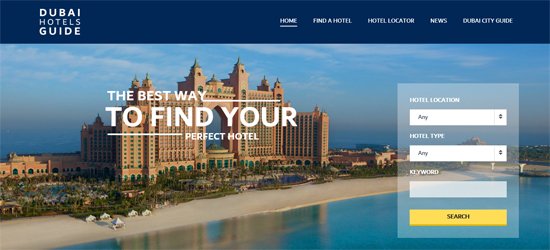 According to Sharad Agarwal, Founder of Cyber Gear, "We have been showcasing Dubai on the web through DubaiCityGuide.com for almost 2 decades. DubaiHotelsGuide.com is another step in that direction. Visitors to Dubai can now reserve their hotels online from our wide selection of over 500 hotels."
DubaiHotelsGuide.com also covers hospitality industry related news and a preview of new hotels opening in Dubai in the next few years, as part of the infratructure build up for Expo 2020.
DubaiHotelsGuide.com will also be adding promotional offers for F&B outlets in town so residents of Dubai can benefit from the fine dining facilities that Dubai offers.
About Cyber Gear
Since 1996, Cyber Gear has been a pre-eminent force in the e-business industry by developing award winning web and mobile projects. Positioned as an industry leader, Cyber Gear provides state-of-the-art internet solutions to a large number of multinational, government and private sector organisations.
Cyber Gear services include design of web sites, intranets, e-CRM, e-business, CMS, e-commerce & mobile applications, Social Media, IoT and e-marketing. Cyber Gear has signed contracts with leading retail, educational, financial and healthcare sector organisations for implementing web based projects. These include Abu Dhabi National Hotels, Sahara Centre, Mega Mall, F&B Business solutions, British University in Dubai, Rochester Institute of Technology, Emirates Development Bank, Gulf Capital, MENA PEA, PKF UAE, Sharjah Insurance Company, Canadian Specialist Hospital, Mediclinic and Aster Group.
For more information :
Cyber Gear
Sharad Agarwal
CEO
Phone: +97143312627
Email :
info@cyber-gear.com
Website :
http://www.cyber-gear.com
We accept Guest Posts

DubaiCityGuide.com is owned and managed by Cyber Gear