The Awesome power of Google, Explained
Famous for its search, e-mail and YouTube video sharing, Google has quietly and relentlessly turned itself into the first super-carrier of the Internet era.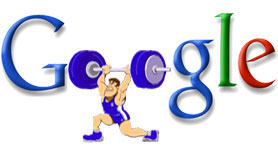 The global search market continues to grow at an extraordinary rate, with both highly developed and emerging markets contributing to the strong growth worldwide. Search is clearly becoming a more ubiquitous behavior among Internet users that drives navigation not only directly from search engines but also within sites and across networks.

Americans account for 22.7 billion searches, or approximately 17% of all worldwide searches. Factor in the search growth in countries where consumers are just now getting wide access to both computing and broadband, and it's easier to see how search grew at nearly 50% from 2008 to 2009.

Google lived up to its reputation in 2009, accounting for 66.8%, or 87.8 billion, of all searches. Yahoo came in second with 9.4 billion searches, which was an increase of 13%. Chinese search engine Baidu accounted for 8.5 billion searches, up 7% over the year-earlier period.

The graph below shows the weighted average percentage of all Internet traffic contributed by Google ASNs between June 2007 and July 2009. Most of Google's rapid growth comes after the acquisition of YouTube in 2007.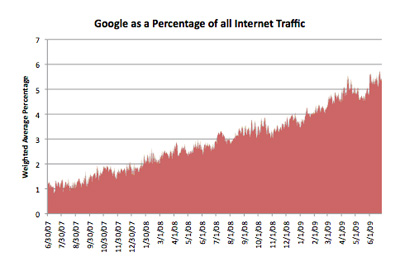 The competition for Internet dominance is now as much about infrastructure, raw data center, computing power and about how efficiently one can deliver content to the consumer.
Here again, Google is at the head of the pack.
What next, you may ask. Here is a sneak preview.
Google's 'Fiber for Communities' initiative boasts Internet speeds of more than 1 gigabyte per second, more than 100 times faster than most connections available today!
Send your comments to
sharad@cyber-gear.com

Archive
The Internet of Things: What It Is and Why You Should Care
Mobile Site vs Dedicated Apps
WHY YOUR BUSINESS NEEDS RWD?
How The Internet Has Changed Our Lives
2013 - ONLINE, IT IS
Twitter Power
Is Your Business Mobile?
20 Ingredients For Building An Amazing Website
My Favorite Sites
Context is King (Commiseration to Content)
Grow Your Business with QR Codes
The Future Web
Go Green With Cloud Computing
How Many Languages Does It Take To Stay Competitive Online?
2011 - Future Bytes
Online Shopping for Holiday Season
The Twitter Addiction
iPad – The Killer APPliance
e-retailing : The Competitive Advantage
CONNECT to the world with Facebook
Mind vs Media: What the Internet Is Doing to Our Brains
'Go Green' at Work
So You Think You Are Tech Savvy?
TigerText: Cover Your Tracks
The Awesome power of Google, Explained
Twitter's Business Model
iPad - Between A Smartphone And A Laptop
2010: Time to 'Go Green'
2010: Go Green with Eco-Friendly Gadgets
Mobile Marketing Is Here To Stay
2010 – No cash, No problem!
Brands that Tweet
Web 2.0 to Web 3.0: The evolution of the Web
Going Green Is Easy
Search Engine Reputation Management
The concept of 'FOREVERISM'
Stay Connected with Twitter
SELLSUMERS - If saving is the new spending, then selling is the new saving
How To Reduce Your Carbon Footprint?
Do You Tweet?
So, you have designed your web site, WHAT NEXT?
To Bing or to Google? That is the Question!
E-Transparency: The Way The Web Is Going
The Resurgence of 'Tribal Marketing'
Go Green Now
Network, Network, Network
Which is more 'Green', paper or digital?
No Clicks Required: A Glimpse Into The Future
SEO for CEO
Five Cost–Effective Tools for e–Marketing
Why 'Go Green'?
The Case for Self Serve Display Advertising: Low cost – HIGH IMPACT
In Times Of Recession, Go Online
9800