The inaugural 'Go Green Networking Event' was held last evening at the Fairmont Hotel in Dubai. A record 100 'Green industry' professionals and eco-enthusiasts attended the event.
The first of it's kind eco-networking event organised by Go-Green.ae portal received an overwhelming response from industry professionals.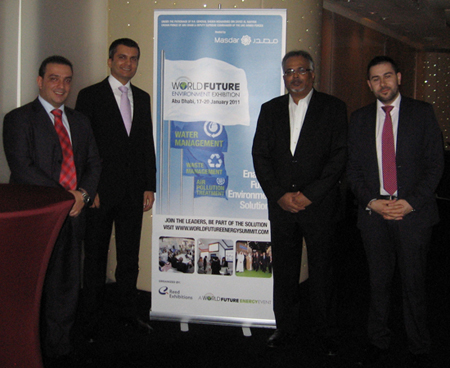 According to Sharad Agarwal, the organiser of the event, "Based on feedback received from partcipants we plan to hold monthly networking sessions at the same venue. Those individuals and organisations interested in sponsoring or joining the next event can register online at www.go-green.ae."
There was an interesting presentation made by the event sponsors, 'World Future Environment Exhibition' and elevator pitches by several budding eco-entrepreneurs.
About Go-Green.ae
'Go Green' web portal was launched in July 2008 to remind people to be mindful of and sensitive to the natural environment in our daily life The main objective of the site is to increase the awareness of environmental issues that affect the future of the planet.
Go-Green.ae features 'Green Stories' that demonstrate the steps taken by corporations as part of their commitment to preserve the planet. Global organisations such as General Electric, Panasonic, Orange, Toshiba, Cisco, Discover, Dell, HSBC, Google, Marriott, Zipcar, Nissan and Mazda share their 'Green Innovations' online.
Go-Green.ae won the Alternate Energy Award at ADIPEC, in recognition of its contribution to promoting environmental awareness and featured on CNN for its coverage on Dubai's participation in Earth Hour. Go-Green.ae also won the Eco Site Award from a US based company that recognizes Green sites that promote Ecology, Health, Safety and the Environment. Go-Green.ae is also ranked second most popular site in the 'Going Green' category by GreenTopSites.com.
The Go Green online newsletter is distributed to 18,000+ subscribers, 5 days a week.

For more information, contact:
Sharad Agarwal
Go-Green.ae
P.O. Box 53735
Dubai, United Arab Emirates
Tel: + 97150 6449103
Email: green@go-green.ae
Website: http://www.go-green.ae
On Twitter at:
Website: https://twitter.com/GoGreenae