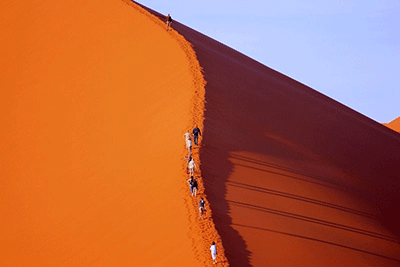 You want to visit the UAE. However, you don't want to visit typical destinations this time around. You need destinations with less traffic and those that are only known to the locals. You want places where you can take memorable selfies, and hang them over the fireplace for as long as you live.
Luckily, there are hundreds, if not thousands of hidden gems in the UAE. From golden fossil dunes to amiable flamingos, it's time to uncover the fascinating secrets of the United Arab Emirates. Read on!
Al Wathba Fossil Dunes, Abu Dhabi
As a traveler who loves experiencing the unexplored, you will most certainly enjoy the Al Wathba Fossil Dunes. Despite being a location for several renowned movies, this is a hidden gem that is unknown even by some locals!
When here, wander around the endless shades of gold while navigating endless rock formations that will blow your mind! This outstanding destination is located about 30 miles from Abu Dhabi; therefore, you can even visit using a hired car!
The Wathba Wetland Reserve, Abu Dhabi
This destination is located on the edge of the Baniyas, and if you blink, you will, without a doubt, miss it! Locals also refer to it as the Flamingo City. If you want to experience UAE on a whole new level, then this hidden gem should be one of the highlights of visiting this country.
The Wathba Wetland Reserve is an undisturbed piece of natural beauty that is home to thousands of flamingos. There is a designated hide where you will be allowed to watch these magnificent migratory birds without disturbing them.
In case you are looking for a place where you can go for a nature walk through thick shrubbery and woodlands, The Wathba Wetland Reserve has got you covered! It is doubtlessly the perfect haven to hide from the bustling city life.
Big Red, Dubai
Big Red is a hidden treasure outside Dubai. It is a dazzling open dessert that complements the boldness of the city. As you drive further into this bravura natural phenomenon, you will notice that its red color becomes deeper.
The Big Red is a picturesque desert that will drive you from the noisy city life. You can carry food and have an out-of-this-world fiery red day out in this amazing gem.
Fossil Rock, Dubai
Are you looking for a surreal and unforgettable experience? Well, consider visiting Fossil Rock, a hidden gem located a few miles from Dubai.
This is the ideal place to be, especially if you love going on educational tours. Here, you will find a myriad of fossils, some of which are more than 80 million years old. For archeology fans this is as exciting as watching a basketball game and betting on NBA expert picks.
Apart from the old fossils, you will also delight in the pristine desert environment, rocky hills, and the clear blue skies that will spice up your vacation!
Wad Al Bih
In case you want to get a birds-eye view of the UAE, you need to go to Wad Al Bih, which is also referred to as the Grand Canyon of this marvelous country. This deep ravine stretches for one kilometer and will provide you with a rare opportunity of watching the UAE from above when you get to the top.
There are several activities you can engage in Wad Al Bih, including mountain biking, camping, and hiking.
The UAE has a reputation for glittering skylines and stunning growth. However, this country has an abundance of natural beauty that very few people talk about. If you are looking for natural hidden gems that are unaltered and untouched by man, endeavor to visit the destinations outlined above the next time you visit this part of the world. When you do, you will forever have yourself to thank!