Number One Tower Suites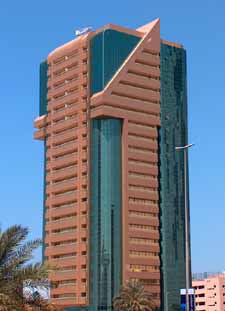 Number One Towe Suites apartment wing brings a unique concept to luxury living. The 50 apartments, comprising 2, 3 and 4 bedroomed, all aptly names Queen, King and Royal Suites respectively,all epitomise luxury contemprorary living, providing a preferred alternative to a hotel for the business traveller or the family unit. Featuring up to date technologies in business communication systems with high speed internet connections and DD telephone / fax. A prestigous address, along the prime stretch of Sheikh Zayed Road, in the heart if the executive buisiness district, Number One Tower Suites is the "number one " location which to enjoy all of Dubai both for business, and pleasure. Exclusivity and privacy is assured with a dedicated entrance and lobby reception, also allowing express personalized check in.
Rooms/Suites : 160 Rooms & Suites
Location : Located on Sheilh Zayed Road, 12 kms from the Airport
Tel : 04 3434666
Fax : 04 3434114
Website :
http://www.numberonetower.com/
Click here
to see the list of restaurants, pubs & bars and nightclubs available in the hotel.