Madinat Jumeirah, The Arabian Resort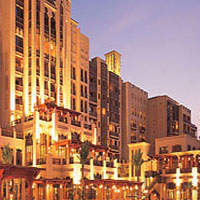 Madinat Jumeirah translates into the 'City of Jumeirah', so named because of the sheer variety of this magnificent Resort, located in the heart of fashionable Jumeirah.

The concept is one of 'old Arabia' in a totally luxurious context. Madinat Jumeirah will be a defining statement in which time and tradition rise from the sands to create a monument of awe-inspiring proportions. The Resort is a recreation of old Arabia and a place where historic beauty meets new-fashioned luxury.