Five Reasons Why You Should be Working from Chival
Pulling up a seat at your new-favorite Chival may be the most efficient way to get your work done. Located in La Ville Hotel & Suites, the social eatery is inviting creatives, remote employees and freelancers, with the launch of their new 'Live, Work and Create' offer for coworking spaces. Whether you are looking to change your surroundings, work remotely or simply need an inspiring ambience to get your work done, here are five reasons why you should be working from Chival: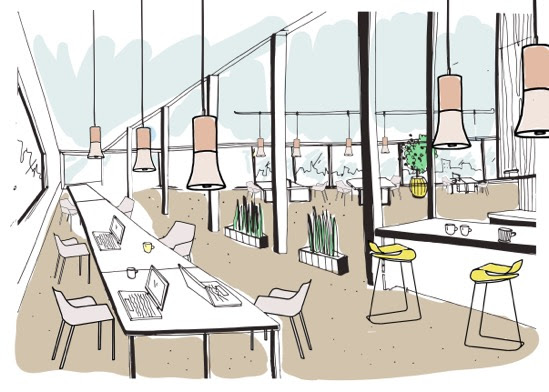 Location, Location, Location
Ideally located in the main street of City Walk Dubai, Chival is in close proximity to business districts of Dubai, including DIFC, Downtown and Dubai Design District. Ideal for working remotely and still staying sociable, Chival's location makes for an easy place to meet new people, catch up over coffee and expand your network.
Endless Sunshine (until sunset)
Let's face it, a typical set up in the walls of your home office can get a bit dull after a while. Mirroring the welcoming ambience of its urban location, Chival's floor to ceiling windows promise endless sunshine so one doesn't feel cooped up all day. The eatery's lively and vibrant communal space offers indoor and courtyard seating. The spacious work tables, contemporary décor and a charming staff – make it appealing for all of your business endeavors.
The Most Important Meal of the Day – Coffee!
Caffeine, studies have shown, has many benefits. Whether it is the keeping you awake and alert part, or the fact that the whoosh of espresso machines and caffeinated chatter creates just the right level of background noise to stimulate creativity. Completely understanding of your necessity of coffee, the Live, Work and Create packages offer unlimited caffeine, premium whole leaf teas, delicious herbal infusions and water.
Image
There's food for every mood – healthy, fit(ish) & its-one-of-those-days!
Harnessing the most important tools to make it the perfect coworking space, Chival offers an excellent and expansive selection of food and drinks that includes a selection of delicious bowls for those looking for healthier choices, all day breakfast options, lunch favorites and a mouth-watering display for desserts.
For early-risers and the night owls!
Work at your own flexible schedule, whether it is from the early hours of the morning or till much later in the evening, Chival is open from 6:30 AM until 11:30 PM.
Moving you away from the mundane office desks and sobriety of home-offices, embrace the contemporary Chival lifestyle.
LIVE, WORK & CREATE AT CHIVAL
Location: Chival, La Ville Hotel and Suites CITY WALK, Dubai
Timings: 6:30 AM to 11:30 PM