Gold Price Forecast For 2022: Will It Rise To New Highs?
Goldman Sachs had raised their 12-month gold price forecast to $2500 per t oz, citing a perfect storm of increased investor and central bank demand amid economic and geopolitical uncertainty.
Demand for the precious metal eased slightly as a stronger US dollar, as expressed by the DXY index, has strengthened further at 103.1 helped by the dollar's advancement against the euro (EUR) and the British pound (GBP).
The gold rate in Dubai is still hovering close to a 3-month low after the key announcements by the US Federal Reserve, which raised rates by half a percentage point — the biggest hike in two decades — to fight inflation.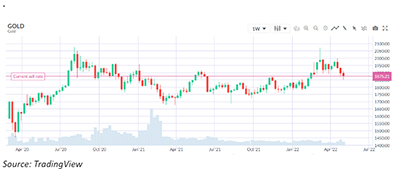 How do analysts see the price of Gold moving in the coming months? Below, we look at some of the latest projections.
Goldman Sachs
Recently investment bank Goldman Sachs raised its 2022 gold target to $2,500 per t oz, citing a perfect storm of increased investor and central bank demand amid economic and geopolitical uncertainty, as well as resilient Asian retail demand.
Scotiabank
Canada's Scotiabank forecast that the gold price could average $1,850 per t oz in 2022 and drop to $1,700 a t oz in 2023.
ANZ
In their latest note, ANZ's analysts were bearish in their long-term gold price outlook. They predicted that the price could slide to $1,750 by the end of June and $1,600 per ounce by the end of December, averaging $1,725 for the year. They forecast that the price could decline further to $1,400 by the end of September 2023 and average $1,458 next year.
ABN Amro
Analysts at Dutch bank ABN Amro were more bearish in their gold price prediction for 2022, expecting the price to average $1,500 and then fall further to $1,300 in 2023.
UBS
UBS recognizes the resilience of gold, which is largely due to an elevated demand for portfolio hedges, as well as the Fed's insufficient response towards inflation. However, regardless of gold's resilience, UBS does still expect gold to fall to $1,650-1,700/oz from July to December 2022, as a result of the ease of threats of the omicron variant, and reduced inflation.
Bank of America
According to Bank of America experts, growing inflation, continuing pandemic risks, and geopolitical conflicts contribute to the investments in gold. BofA analysts expect the average gold price to be at $1,925/oz throughout the year.
Wallet Investor
According to Wallet Investor, the closing price for 2022 will be $2,065.25. The prognosis for the coming months of the year is positive, and no strong declines are expected.
Long Forecast
The Economy Forecast Agency is even more optimistic. They expect the 2022 Gold closing price at $2,391 with the highest price to be set in September at $2,536.
Gold price predictions for 2022 from different experts vary and depend on how the market will respond to inflation, the central bank's policy, and geopolitical tensions.

High volatility has been influencing the stock markets since the very beginning of 2022. At the same time, gold's price growth has been quite steady, and the uptrend is continuing. Inflation is the core factor that will impact the price of gold in the near future. It is at the highest rate in the US in the last forty years. Gold's status as a top hedging instrument against diluting the purchasing power of fiat currencies is likely to push the prices further, reaching more than $2,000 per ounce.
The factors that will influence the price of gold in 2022 and may lead to its increase above $2,000 per ounce include:
Potential increase in inflationary expectations and concerns on diluting purchasing power of fiat currencies.

Potential increase in investment demand and a gradual recovery in consumer demand in China and India may support the precious metal rate at a high level.

Government bonds (government debt) may not play the role of defensive assets in the face of inflation and negative interest rates since they will cease to generate income.

Tense geopolitical situations may lead to gold becoming a hedging instrument on a larger scale.
At the same time, the opportunity cost of owning gold may decrease. This may increase the popularity of the precious metal in the eyes of investors in 2022.

It's important to keep in mind that financial markets remain extremely volatile, making it difficult to accurately predict what the gold price will be in a few hours, and even harder to give long-term estimates. As such, analysts can and do get their predictions wrong.

We recommend that you always do your own research, and consider the latest market trends, news, technical and fundamental analysis, and expert opinion before making any investment decision. And never invest more than you can afford to lose.