Browse

About us

Vital Statistics

Advertising Mediums available with us

Mode of Payment

Advertisers through Google

Success Stories

Advertising Enquiries

Notes

Advertising Terms & Condition

DCG On web

| | |
| --- | --- |
| | |
| MS Word format | PDF format |
About Us
Since 1996, DubaiCityGuide.com, a Dubai-friendly e-portal owned by Cyber Gear, has been an active on-line guide for residents and tourists of Dubai. Bringing forth Latest news, City happenings, F&B promos, Sales, Art events, Dubai Images and Videos, Movie timings and much more; DubaiCityGuide.com is hugely popular for its up-to-date and neatly classified information. The ease of use of the website and the fresh look on each page, make it as vibrant as the city itself.
Apart from the constantly updated info on Dubai's happenings, DubaiCityGuide.com also includes guides like tourist information, things to do, essential guides, automobile guide, shopping malls, souks guide, hotel and restaurant info and contacts, leisure & travel info, education guide, employment guide etc.
'Dubai Times', a weekly newsletter from DubaiCityGuide.com, reaches out to more than 80,000 subscribers. Latest happenings, watch-out-for events, latest news are delivered into the mail boxes of the users. 'Dubai Times' surely know how to keep its subscribers 'ahead of times'. The mobile version acts as a pocket guide to tourists and residents alike.
With over one million visitors every month to the website, it is surely an advertiser's haven. Also, advertisers can choose which page they would like to target according to their products or the site statistics. www.DIYadsOnline.com (another e-portal of Cyber Gear) serves banner advertising on DubaiCityGuide with a Do-it-Yourself approach for advertisers.
Vital Statistics - Date range: October 2010
Total Hits
16,203,092
Total Visits
111,533
Total Page views
279,046
New Visits
71.91%
Dubai Times subscribers
82,000
Demographics [Source: Alexa Charts]
Relative to the general internet population how popular is dubaicityguide.com with each audience below?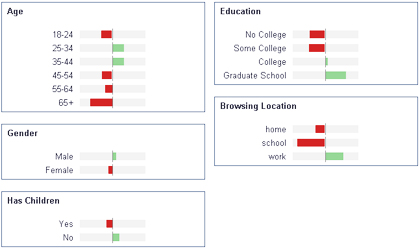 Advertising Mediums available with us
Banner Advertising
Skyscraper banner
468x60, RoN* – US$ 1,000/month
Standard banner
468x60, Fixed on home page – US$ 1,000/month
Skyscraper banner
120x600, RoN* – US$ 2,000/month
Leaderboard banner
728x90, RoN* – US$ 2,000/month
Large rectangle banner
336x280, RoN* – US$ 2,000/month
Leader Board banner on Dubai City Guide News Alerts – US$ 1000 per issue
CPM (Cost per thousand impressions) rates for Banners
Standard Banner - US$ 25 CPM
Leaderboard Banner - US$ 40 CPM
Skyscraper Banner - US$ 35 CPM
Space Banner - US$ 50 CPM
CPM (Cost per thousand impressions) rates for Email Campaigns
Email campaigns - US$ 150 CPM
Also see www.MiddleEastPostBox.com
Company Listings
Text listings with email and web address – Dhs 1,200/year (US$ 326/year)
Text listings with email, web address, image or company logo – Dhs 1,800/year Dhs 1,200/year (US$ 500/year)
Sponsored Links – US$ 250/month
Keyword Advertising
US$ 500/month per keyword
Buy keywords - the keywords will be highlighted on all our news articles and special features with hyperlink to the website.

For more information contact our representative at dcg@cyber-gear.com or call us at 04 3312627