UAE Kilometre Chart
Click here to view UAE Kilometre Chart.

DCG's City expert has picked up some top 'things to do' in Dubai this year. So whether you are new to this ever-active City or have been growing along with it, check this list out for some super cool ideas for those lazy weekends or i-want-to-explore weekdays!
Dining out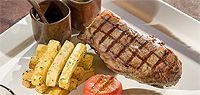 Asado, The Address, Downtown Burj Dubai | The rustic Argentinean grill restaurant is the perfect place for succulent meat cuts prepared in the Asador Criollo-style served with selected Argentinean wines. Dine outside in cooler months to make the most of the terrace or relax in the warmly lit interior whilst enjoying Tango and live entertainment.
Call 4 287 971 for enquiries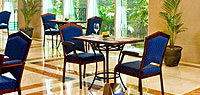 The Promenade at four Points by Sheraton, Bur Dubai | Look out for Enchiladas, fajitas, Cajun, tortilla soup, beef green chilli stew. | Priced at Dhs 99 PP inclusive of one beverage.
Call 04 3977444 to reserve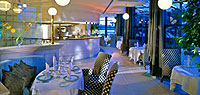 Prime Rib, Le Royal Méridien Beach Resort & Spa | Hearty steaks are the stars of this award-winning restaurant. Choice cuts of the finest beef and more will satisfy even the biggest appetites. | Pricing NA.


Call 04 399 5555 to reserve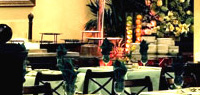 Al Saffa, Metropolitan Hotel Dubai

| An international, 24-hour restaurant offering both buffet and à la carte menus; an ideal place for a quick bite or a lingering meal. | Pricing NA.


Call 04 407 6813 to reserve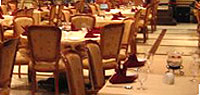 Dhow Café, Dhow Palace Dubai | Offers an excessive variety of hot & cold beverages and cold sandwiches, ice cream and homemade desserts. | Pricing NA.Call 04 359 9992 to reserve
Art & Culture tour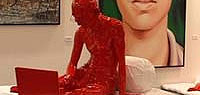 Art Attack Gallery | Art Attack, strives to introduce vibrant new local artists enriching the communities art diversity and reflect this in the eclectic mix in the paintings, sculptures and installation exhibited at the gallery.


Call 04 344 9008 for enquiries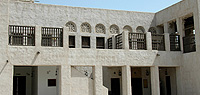 Sheikh Saeed Al Maktoum House

| This was the house of the grandfather of the current ruler. It is now converted to a museum with photographs of old Dubai and the current scenario | Open daily from 7.30 am to 9 pm and 3.30 pm to 8 pm on Friday.


Call 04 393 7139 for enquiries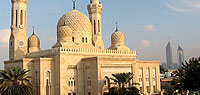 Jumeirah Mosque | This is the best known mosque in Dubai made prominent by its huge central dome. This is also the only place of worship for non muslims. | Organised tour of the mosque is conducted every sat, sun, tue and thu at 10 am.
Call 04 353 6666 to book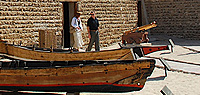 Al Fahidi Fort and Dubai Museum

| The fort dates back to the 18th century and houses interesting archeological finds as spears, khanjar knives and cannons among many others. | Open daily from 8.30 am to 8.30 pm.
Call 04 3531862 for enquiries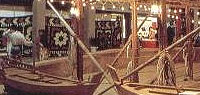 Heritage and Diving Village | Displays ancient artifacts from sites dating back as 550BC. You may enjoy coffee and traditional Arabic bread at a small souq in the village.
Call 04 393 7151 for enquiries
Sights, attractions & activities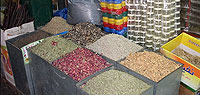 Gold and Spice Souq | There are over 800 jewellery shops in both shopping malls and souks. The gold is in 18, 21, 22 and 24 carat sold at a prevailing daily rate with a fee for craftsmanship. The spice souk has an amazing election of ginger, garlic, cardamom and frankincense and Shisha.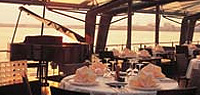 Dinner Cruise | Cruise along the Dubai creek on traditional Arabic Dhows or more modern cruisers and enjoy an especially prepared gourmet cuisine.


Suggested: Bateaux Dubai, Call 04 399 4994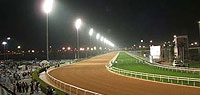 Racecourse | Nad Al Sheba racecourse has two left handed flat racing courses, a turf track and a dirt track that surrounds it. With the exception of World Cup night, general admissions to the races are free and you can access the Millennium Terrace seats and lawns area.
Call 04 327 0077 for enquiries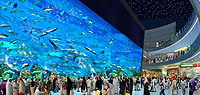 Dubai Aquarium | The world's largest aquarium window brings you face-to-face with enormous Sand Tiger Sharks, graceful Stingrays, giant Groupers and shimming shoals of pelagic fish.
Ticket enquiries available here.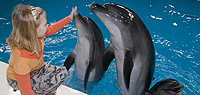 Dubai Dolphinarium | Dubai Dolphinarium is the first fully air conditioned indoor (temp 21-25c) Dolphinarium in the Middle East. Daily shows are on from mon - sat.
Call 04 336 9773 to book.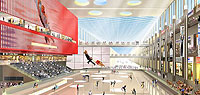 Dubai Ice Rink | The Olympic-size ice rink boasts world-class facilities. Whether you want to learn skating, perfect your technique, play ice hockey, socialise with friends or just have a great time, this spectacular venue is the coolest place to hang out, any time of the year.
Timings & prices available here.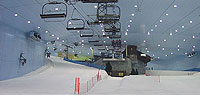 Ski Dubai | Ski Dubai is the first indoor ski resort in the Middle East and offers an amazing snow setting to enjoy skiing, snowboarding and tobogganing, or just playing in the snow.
Click here to know more about Ski Dubai.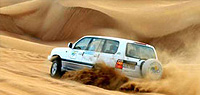 Desert Safaris

| Full day desert safari offers a splendid chance to live the desert experience. A typical Arabian welcome awaits you at our Bedouin campsite followed by camel ride, Dune bashing, belly dancing and more.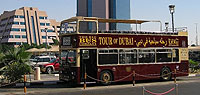 The Big Bus Company | From the towering sail-shaped Burj Al Arab hotel to the mysterious gold and spice souks, what better way is there to see Dubai's breathtaking views and attractions than from the King of all sightseeing vehicles, an open-top, double-decker Big Bus.
Book online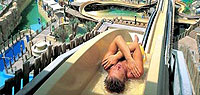 Wild Wadi | When it comes to excitement, you just can't get enough at Wild Wadi! For one adrenalin rush after another, try the 80 kms/hr downhill hurtle on the 33 metre high Jumeirah Sceirah; the 1.5 metre high waves at Breakers Bay; the 170 metre white-knuckle ride at Rushdown Ravine; or any of the 14 awesome interconnected rides.
Customize your day online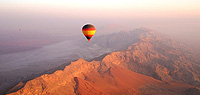 Hot Air Ballooning | Glide gently in a hot air balloon over giant sand dunes, wandering camels, oasis and rugged mountains, while you marvel at breathtaking views of the sunrise and its magical effect on the desert vistas.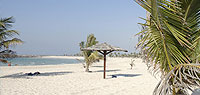 Beach Parks | We suggest: Al Mamzar beach park for its four pristine beaches, two swimming pools, children's playground, picnic areas and fresh water showers.

Call 04 296 6201 for enquiries.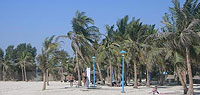 Jumeirah Beach Park for its large lawned areas, beautiful flowers and shrubs.

Call 04 349 2555 for enquiries.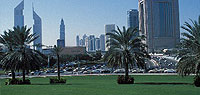 Creekside Park for its barbecue sites, amphitheater with seating capacity for 1,200 people, enquiriesrmation booth, 18 hole mini-golf course, 3 jetties for fishing, 2 restaurants and a number of kiosks for refreshments, walking and jogging tracks, and exit points for abras.
Call 04 336 7633 for enquiries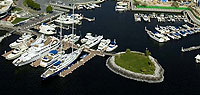 More activities | Indulge in Luxury Yacht Charters, Fishing & Cruising Trips , Helicopter Rides, Jet around the world, Luxury Cars | Suggested: Summertime Marine Charter.
Call 04 329 5211 for enquiries
Disclaimer : This information is to the best of our knowledge. We are not responsible for changes in Pricing/day/timings/contact information. If you wish to contribute in any form do email us at dcg@cyber-gear.com