Sheikh Zayed Road, Dubai, United Arab Emirates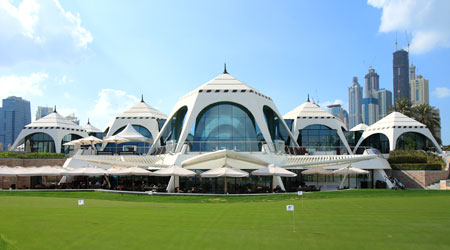 The Majlis course has developed a worthy reputation worldwide as a testing layout for even the best golfers. The course features hundreds of indigenous species of flora and fauna, beautifully complemented by meandering fairways and seven fresh and saltwater lakes. The Majlis, the first grass course in the Middle East, takes its name from the Arabic word for 'meeting place'. One of the most prominent features on the course is the Majlis building itself positioned between the 8th and 9th holes and a Dubai landmark since 1988.
Emirates Golf Club's second championship golf course, which opened in 1996, was named 'The Wadi', taken from the Arabic word for 'valley'. Redesigned in 2005 by golf legend and six-time major winner Nick Faldo, the course now combines a stunning visual design with the nuances and challenges of any championship course in just the right measure, providing visitors an exceptionally enjoyable golfing experience. A natural wadi running the length of the course comes in to play without being classified as a hazard, and along with Faldo's trademark tees and bunkers are combined with the naturally rugged terrain to create a unique golfing experience.
As the only fully floodlit 18-hole course in Dubai, the Faldo course continues to light up the night sky enabling golfers to enjoy a full round of 18 hole championship golf in the heart of Dubai. Open to the public and members alike with highly competitive rates for 18 holes and 9 holes, the exciting development extends play from 5pm until midnight everyday of the week, with players able to tee off as late as 7. 45pm for 18 holes and 9. 55pm for 9 holes on the championship course.
Tel: 971 4 417 9999
Website: www.dubaigolf.com