Things to Consider Before Hiring a cleaning company in Dubai
No matter what season of the year it is or what occasion you have to celebrate on a particular month, a clean and orderly house must be something that you should maintain. Not only would it be appealing to the eyes but it's also helpful for having a good health condition. You and your family deserve a clean house – and what's the best thing to do to achieve this – getting a professional house cleaning!
There are times when we get so busy with our lives – at work, at school, at community organizations – so busy that sometimes cleaning becomes a hard task. We focus on other things that we tend to forget that maintaining a sanitized and hygienic home is a must.
Sure, if you suddenly have free time, you can always try and clean the house by yourself. In fact, some people use this opportunity to bond with their family – they help each other to clean the house together.
But, if you are a busy person like the most, why not just hire a professional cleaning company in Dubai who can do the job for you? These companies have the knack for making your homes spotless and untarnished. In fact, many individuals have already been opting for this kind of service.
Cleaning companies help you out in your house cleaning, Carpet Cleaning, Sofa Cleaning, Deep Cleaning or if you are looking for maid services they will provide. First look at your place and decide what cleaning services you are looking for? However, to guarantee that you will be able to get the most out of the cleaning services that you will avail, check out these things that you should consider first before you settle on a cleaning company: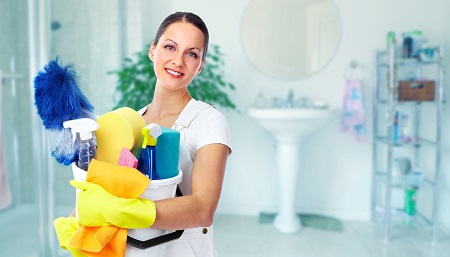 1. Are they worth it – are they qualified enough?
Before you settle on a cleaning company, the first thing that you have to check is their credibility. They must be reputable enough and they must have a good background. Their experience should be checked as well. You should know that you can trust the cleaning company before you let them inside your house.
2. Are their staffs trained well?
A good cleaning company makes sure that all their staffs are qualified for the job. Sometimes they conduct the training themselves or they do a background check on the employee to know if he/she is good with the job. Nevertheless, you have to know if these professional cleaners can make you satisfied after their cleaning service.
3. What are their cleaning methods?
Cleaning companies are almost using the same cleaning methods – every time. It's as if all of them give the same level of service to their customers. Hence, when choosing the right cleaning company, you must see to it that they offer something that the other companies can give. They must have a niche or differential advantage that you can benefit from.
4. What are the chemicals are they using?
If you have children and if you have pets, this must be one of your priorities – knowing which chemicals are they using when cleaning. This way, you would know if it's not safe for your kids or your pets and avoid problems that may arise. Your family's health is the most important thing – your cleaning company must know that.
5. What more can they give you?
A good house cleaning company offers more than just cleaning your home. They go out of their way to make sure that you are being treated right. They can even be both cleaning and maintenance company which repairs damages in your home as well. If you are to choose which cleaning company you are going to work with, make sure that they will be worthy of the price you have to pay them, the trust you will give them, and the assurance that they will meet and even exceed your expectations.

Indeed, hiring a professional cleaning company in Dubai can be a good experience and a great time-saver if you know how to choose the best. Call your trusted cleaning company now and save yourself from the stress of cleaning!