Your Employee Rewarding Guide: 5 Epic Ways to Give Your Best Worker a Pat on the Back
When was the last time someone told you that you were doing a great job? There aren't many feelings better than when someone takes time out of their day to recognize your effort. It makes you feel good, and like you should work harder to do even better — it makes you more productive.
Why would it be any different with your employees? A good employee rewarding program will motivate them to work harder and better, helping your company produce even better products. When you reward your employees, you're not just making someone feel good. You're also helping improve your company.
Yet, knowing how to reward your employees' efforts can be complicated. Everyone's different, and everyone prefers different kinds of rewards. Keep reading below for three rewards that are sure to make your employees feel valued at work.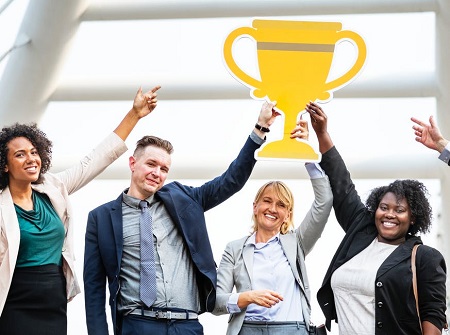 1. There's No Better Employee Rewarding Gift Than Lunch
What's the best part of the workday? It's not getting off a call from someone or typing the final line for a big project. Everyone agrees that the best time of the day is lunchtime.
It's a time when employees can do more than just step away from their work and regroup their thoughts. It's when they can speak with coworkers and be a part of the office community. You should be a part of that community, too.
You should be the one that gets free lunch for people who put in the effort and go the extra mile. Sit down with your employees for lunch, and get meals for employees that shine. A conversation with you over a free lunch will make employees feel valued more than any gift.
2. Certify That They're Great Employees
Sometimes, you want to certify that certain employees are exceptional. To do that, employers sometimes give them certificates to recognize their efforts. Yet, that can be too cheesy for some offices.
However, designing certificates for employees will give the reward a personal touch. Personally designed certificates aren't cheesy; they're sweet ways to show your appreciation for someone. There are apps out there that make it easy, too.
3. Raise Their Pride in the Company with a Raise
There is one single way to genuinely show you appreciate all that your employees do for the company: give them a raise. If they're truly doing a great job, it's probably reflected in the company's profits. Why not let them share in those profits? They're the ones that put in the labor, after all.
By giving your employees, you're doing more than just recognizing people's efforts in a truly resonating way. You're also boosting your reputation among employees, helping you lead more effectively. Since employees will also be able to live healthier, more secure lives with a raise, they'll be able to work harder too.
Employees Deserve Recognition for Their Work
No matter how much work you put into your company, your employees are putting in just as much, if not more. They're the ones that interact with clients, customers, and all other members of the management team. They deserve more credit for that, and that's why a good employee rewarding program is essential.
With one, your employees will work harder. Work will feel like less of a slog, and it will have more of a purpose for your employees than just a way to make money. There are other ways to make work feel more purposeful, too.
To learn how you can improve your employees' time at work, just keep reading here. We regularly post about how you can be a better leader and bring your company together!