Top Luxury Hotel Apartments Offering Monthly Stays In Dubai
Explore serviced apartments in Dubai Marina and Downtown Dubai for flexible monthly stays this holiday season.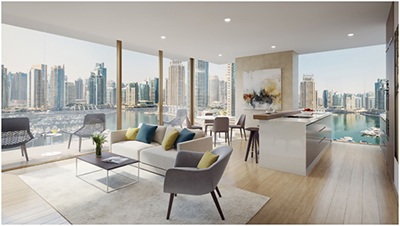 Serviced Apartments are Dubai's top comfort and convenience provider, aiming to give everyone from residents to ex-pats a domestic experience in the city's finest districts. The hassle-free experience, along with a wide range of modern living spaces, makes this an ideal choice for both short-term and long-term monthly stays in Dubai.
Read on to see expert-recommended options for this season.
La Ville City Walk Dubai
Book your monthly stay at City Walk Dubai
The high-end urban setup is mapped just across from Downtown Dubai. The lifestyle community features emerging and well-known retailers across a tree-lined promenade. La Ville Hotel and Suites lies in tempting proximity to the area's many fine-dining and leisurely venues. The hotel is a go-to destination for those in the area due its many key features:
On-site dining venues
Hi-tech smart appliances
A-Z amenities
24 hour concierge service
Close to La Mer, DWTC and Downtown Dubai
Occupants can choose from fully furnished one bedroom apartments for rent with views of the central locale. The spacious units are elegantly equipped in a self-catered set-up with A-Z appliances and kitchenware.
Monthly rates starting from AED 35K
Jumeirah Living Marina Gate
Located in the vibrant locale of Dubai Marina, Jumeirah Living Marina Gate offers an experience that includes the best of the area's prime factors. Apart from full access to all building amenities, and convenient proximity to a chain of dining venues, guests can take advantage of:
Furnished 1 to 3 bedroom apartments for monthly rent
Minimalist Interior Décor
Floor-to-ceiling windows
Self-catered studio apartments
Views of Dubai Marina and Marina Yacht Club
Proximity to Dubai Marina Tram Station
Each room ranges from the generous square footage of 979 up to 2185 square feet across a high-quality wood finish.
Monthly rates starting from AED 18K
Intercontinental Dubai Marina
As one of the many 5-star establishments in Dubai Marina, Intercontinental Dubai Marina is a central rendezvous for tourists, ex-pats and residents in the city. The hotel features upbeat venues ranging from Mexican cuisines to international bites, bars, and dining venues.
Key highlights include:
On-site Spa and Outdoor Pool
Fitness Centre
Equipped kitchen with high-end appliances
Floor-to-ceiling windows
Proximity to Dubai Tram and Metro Station
The 39 storey especially features studio and 1 to 3 bedroom hotel apartments for monthly stays across a range of bedroom layouts. The sizeable options make it a great option for both solo corporate travellers as well as large groups in the city.
Monthly rates starting from AED 22K
Address Sky View Downtown Dubai
It's no doubt, that the Downtown neighbourhood is a top-notch destination for iconic backdrops and signature skyline views. As home to the record-breaking Burj Khalifa and Dancing Fountains, visitors and residents of this neighbourhood are amid endless ways to explore and stay entertained in the city. The Emaar-based development – The Address Sky View Hotel is a prominent addition to the neighbourhood, connected directly to the Dubai Mall.
Hotel Highlights include:
Infinity Pool
Private Cabanas
Fitness Centre
On-site venues
Allocated Parking Space
Guests can also choose from the 1 bedroom hotel apartments to 4 bedroom duplexes with truly rewarding Burj Khalifa views to complement the setting. The spacious floor plans also provide well-lit spaces in high-floor settings. Moreover, Address Sky View Residences are a unique selection of self-catered serviced apartments in Dubai, with high-end smart appliances to offer the highest level of comfort.
Monthly rates starting from AED 44K
Movenpick Downtown Dubai
This central Downtown-based hotel is another one of the region's 5-star rated establishments. Movenpick Downtown aims to cater to a modern lifestyle across its mid-century minimalist interiors. The various array of layouts in the hotel collection makes it a conveniently family-friendly space.
The hotel also has an innumerable choice of amenities:
Rooftop outdoor pool
Access to on-site Fitness Centre
Dedicated workspace
Easy access to Sheikh Zayed Road
Allocated parking space
Proximity to DIFC. Downtown and DWTC
Monthly rates starting from AED 14K
Serviced Apartments presents an exclusive selection of furnished serviced apartments at Movenpick Hotel Apartments ranging from Deluxe Studio Apartments, and Premier one bedrooms to Executive 2 bedroom hotel apartments for flexible monthly stays.
Book your serviced apartment in Dubai today for a hassle-free experience across both short and long-term hotel stays. Contact ServicedApartments.ae for more information, bookings and inquiries.