Turn Holiday Into Every Day Life- Here Is Some Ideas For Jobs In Dubai
Source: Pexels
It is one thing to visit Dubai, but what about moving to Dubai? The city is not just great for visiting, but it also offers a wide range of opportunities for people looking to settle down for the short, medium, or long term. Perhaps you visited Dubai once and fell in love with it, perhaps you are planning a holiday soon and are just curious about what the future could hold. Either way, one of the things you need to consider is what to do there for work. So, here are just a few ideas.
Financial markets
Dubai is a city known for its wealth, so it is no surprise that its financial sector is also booming. The city has a lot of financial firms such as investment and wealth management, trading, banking, and more. There is also interest in futures trading, which was once reserved for the institutional trader. Nowadays, it has become much more accessible and can even be done online from your apartment in Dubai.
There are also opportunities to work in these sectors for qualified individuals as advisors, admin staff, and various other functions. Jobs in these fields often come with high salaries and potential for earning through investments and trades. This is just as well, as the cost of living the high life in Dubai can soon rack up.
Real estate
Dubai is known for its stunning skyscrapers and modernist style, but there is so much more to its real estate market. While you might not be ready to sell to locals, as a foreigner, you could consider targeting the ex-pat market. Throughout the whole of UAE, there are over eight million foreign residents.
Many of these live in Dubai, and more come each year, meaning there is always a steady stream of people looking to rent or buy property. For an average apartment, you are looking at the cost of $1500 a month, but of course, this can vary significantly. In terms of buying, the sky is the limit. In both cases, the commissions for a real estate agent are extremely attractive.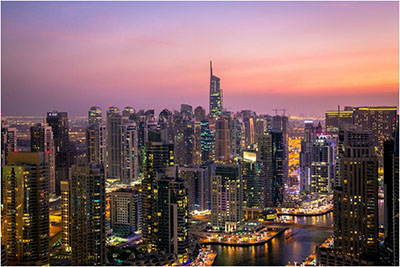 Source: Pexels
Technology
According to the Wall Street Journal, Dubai has now emerged as the tech hub of the Arab world. Over the last couple of years, the city has witnessed its tech industry grow significantly as startups, and established firms attract interest from international capital. This has been bolstered by interest from tech workers who have moved there in droves, looking to work for some of the sector's following big names.
Verticals of particular interest include AI, fintech apps, VR, and of course, AR. Dubai has a thriving blockchain community with many companies looking to create new systems and software-based around it. If you are interested in working in tech, Dubai should be top of your list!
Design and architecture
As mentioned, Dubai is home to some incredible buildings such as hotels, malls, stunning museums, and apartment blocks. If you are an architect with something unique to bring and a specialization in high-end and luxury, this could be the city for you. Additionally, if you are an interior designer or similar, this could also be an excellent relocation.
Those with a fantastic eye for cutting-edge design are always sought after, and if you land some big clients, they come with a great payday. As the city continues to expand, architects and interior designers will always be in demand.
Living in Dubai is a once-in-a-lifetime experience. But before you decide to take the plunge, take a holiday there and spend some time exploring and understanding what it is like. Moving to UAE can be quite a culture shock, but if you are well prepared, it could be the best decision you have ever made.