Dubai After Dark: 6 Tips to Enjoy the City's Nightlife
You're not exploring a city completely if you tuck yourself away in your hotel room once the sun sets — especially if you're in Dubai. In this city, you're missing out on something wonderful if you head to bed early because Dubai is a whole new world the moment it gets dark.
Here, commercial complexes and downtown strips are abundant; you can enjoy the nightlife and experience something unique. If you have no idea how and where to start enjoying Dubai's nightlife, we have here the top six tips for achieving the true Dubai experience after dark.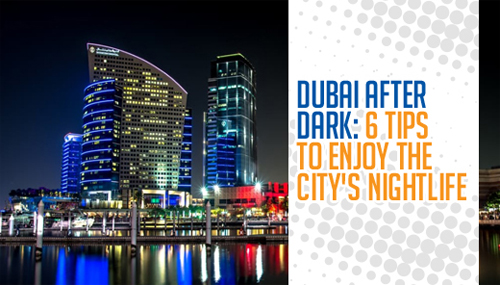 1. Set aside one night just for strolling.
The downtown areas, especially those near hotels, are full of life at nighttime. It's always nice to just leisurely walk around and peek into what some establishments have to offer. Also, when you dedicate a night for strolling, it will allow you to determine where to purposely go next, what outfit to wear, how to quickly get to the places you want to visit, which places are completely safe for you to go, how much money you need for exploration, and even up until what time you want to stay out.
2. Go online to gather more information on nighttime hotspots in the city.
This is the digital age and you can trust the internet to provide you with much of the information you need in order to properly make plans for a night out in the town. Most establishments have their own website and you can take a peek at what these places have to offer. A lot of them have even hired some of the best video production companies to create promotional videos that will allow you to see what kind of fun can be had, as well as which of the events that are lined up at the establishment are just right up your alley.
3. Check out the shopping malls.
Apart from the fact that shopping malls in Dubai are really grand, they often host a lot of events for the enjoyment of their shoppers. It's quite common to chance upon free world-class musical performances (malls go all out in ensuring superior sound quality by hiring topnotch audio visual solutions providers like PULSE for the set-up), fashion shows, and other entertaining events. And of course, shopping is a fun thing to do no matter what time of day it is.
4. Shop around for great deals online.
E-commerce sites cover tourism and entertainment adequately; as such, you may score for yourself discount coupons for popular dining establishments, select retail stores, shows, and even theme parks in the city. Whatever great deal is available and can fit your budget, open your mind and give it a try. Not knowing what to expect at times can lead to truly delightful surprises.
5. Visit the amusement parks.
Dubai has some of the best theme parks in the world and they are actually open at night. If you're a thrill-seeker, you definitely will have a blast trying out the different rides, especially if you're with friends. These amusement parks just transform at nighttime — the views are different, and the weather changes, too (you won't have to worry about sunburn). You can also expect the people you encounter to be a different kind of "pumped."
6. Ask your hotel concierge about local events.
You can bet that your hotel knows the goings-on in the community and can help you find out about all the much-awaited shows conjured by the leading events production companies in the area. Your hotel can even make arrangements for you to ensure your convenience in attending these events. They can get tickets for you and even arrange your transportation; this way, you can arrive in style and get to where you need to go in the most convenient fashion.
A great night out is all about being prepared. Plan ahead, but be flexible as well – this is the key to fully enjoying a city's nightlife scene.