How To Reduce Your Carbon Footprint?
Carbon pollution is causing the world's climate to change, resulting in extreme weather, higher temperatures, more droughts and rising sea levels. Eleven of the past 12 years rank among the 12 warmest years!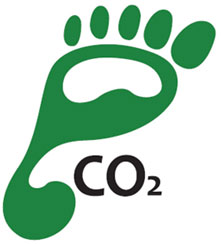 Climate change is a global problem requiring a global solution, one where all major carbon polluting nations need to take comprehensive action to stabilise and reduce global levels of carbon pollution. Everyone needs to do their bit to tackle climate change by reducing carbon pollution.

Your carbon footprint is a measure of how your domestic and social activities are affecting the environment in terms of the amount of green house gases you produce per year, measured in tonnes of carbon dioxide. Your carbon footprint is the direct effect your actions and lifestyle have on the environment, in terms of carbon dioxide emissions. Every time you drive a car or use electricity, you are contributing to carbon dioxide emissions. Whenever you consume or use a product, it contributes towards your carbon footprint.


The carbon footprint for an average U.S. household is approximately 150 pounds of carbon dioxide (CO2) per day, more than twice the European average and nearly five times the global average. Experts suggest we need to reduce our carbon footprint by as much as 80 percent to effectively reverse global warming.
Discover what factors contribute to global warming and then do your part by measuring and reducing your carbon footprint. By being aware of how your actions impact the Earth, you might easily be able to make some changes for the better.
Track your mileage. Driving your car is the largest portion of your carbon footprint, about the size of your heel and arch put together! Track your mileage and calculate how many gallons of fuel you use each day. For each gallon of gasoline consumed, add 19.6 pounds of CO2. Lower your CO2 emissions by walking or bicycling, carpooling, riding public transportation, and planning errands around other necessary trips. Maintaining your vehicle keeps it running cleaner and also helps reduce your carbon footprint.

Read your electric meter. Each day record your kilowatt-hours (kWh) used. Every kilowatt-hour produces 1.5 pounds of CO2. But for every kilowatt-hour used, 2.2 are wasted, or lost, during transmission over electrical lines. Therefore, small changes can have a big impact. Reduce your usage by replacing standard light bulbs to compact fluorescents. Keep in mind, fluorescent light bulbs contain mercury so proper disposal at your local recycling center is a must. Turning off computers when not in use can reduce their carbon footprint by 50 percent.

Track your natural gas or propane meter. Again, record your daily usage of natural gas. Every 100 cubic feet belches out 12 pounds of CO2. Propane gas uses slightly more at 12.6 pounds per gallon. Reduce your heating carbon footprint by replacing heater filters each month during the winter. If you have an older home with single pane windows, consider replacing them this summer for huge savings next winter. Your heating/cooling bill and your carbon footprint will reduce dramatically.

Measure your carbon footprint. Gather your data and calculate your carbon footprint online. There are a number of easy-to-use calculators available and, while they may vary in the level of detailed information, each one will give you a good indication of where you stand in your carbon footprint.
If you follow all of the above steps then you will be well on your way towards reducing your carbon footprint, and you can stop global warming from devastating our natural environment.
The best way to reduce your carbon footprint is to 'go green'. The time to act is now, for tomorrow might be too late! For more information, visit
www.go-green.ae
Send your feedback to
sharad@cyber-gear.com
.

Archive
The Internet of Things: What It Is and Why You Should Care
Mobile Site vs Dedicated Apps
WHY YOUR BUSINESS NEEDS RWD?
How The Internet Has Changed Our Lives
2013 - ONLINE, IT IS
Twitter Power
Is Your Business Mobile?
20 Ingredients For Building An Amazing Website
My Favorite Sites
Context is King (Commiseration to Content)
Grow Your Business with QR Codes
The Future Web
Go Green With Cloud Computing
How Many Languages Does It Take To Stay Competitive Online?
2011 - Future Bytes
Online Shopping for Holiday Season
The Twitter Addiction
iPad – The Killer APPliance
e-retailing : The Competitive Advantage
CONNECT to the world with Facebook
Mind vs Media: What the Internet Is Doing to Our Brains
'Go Green' at Work
So You Think You Are Tech Savvy?
TigerText: Cover Your Tracks
The Awesome power of Google, Explained
Twitter's Business Model
iPad - Between A Smartphone And A Laptop
2010: Time to 'Go Green'
2010: Go Green with Eco-Friendly Gadgets
Mobile Marketing Is Here To Stay
2010 – No cash, No problem!
Brands that Tweet
Web 2.0 to Web 3.0: The evolution of the Web
Going Green Is Easy
Search Engine Reputation Management
The concept of 'FOREVERISM'
Stay Connected with Twitter
SELLSUMERS - If saving is the new spending, then selling is the new saving
How To Reduce Your Carbon Footprint?
Do You Tweet?
So, you have designed your web site, WHAT NEXT?
To Bing or to Google? That is the Question!
E-Transparency: The Way The Web Is Going
The Resurgence of 'Tribal Marketing'
Go Green Now
Network, Network, Network
Which is more 'Green', paper or digital?
No Clicks Required: A Glimpse Into The Future
SEO for CEO
Five Cost–Effective Tools for e–Marketing
Why 'Go Green'?
The Case for Self Serve Display Advertising: Low cost – HIGH IMPACT
In Times Of Recession, Go Online
17158