Mind vs Media: What the Internet Is Doing to Our Brains
Is Google making us stupid?
This week I had the opportunity to read through 'The Shallows', an interesting book by Nicholas Carr where he describes the weird, new, artificial digital world in which we now live in. The consequences of the mental and social transformation created by our new electronic environment are ubiquitous. The technologies we use to find, store, and share information can literally reroute our neural pathways.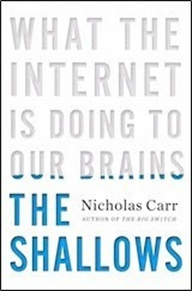 Carr explains the difference between the book and the e-book in a fascinating way. The hyperlinks on the internet lead us on from one text, image, or video to another while we're being bombarded by messages, alerts, and feeds. This glimmering realm of interruption and distraction impedes the sort of comprehension and retention 'deep reading' engenders.

Some of the issues explained are:
Greater access to knowledge is not the same as greater knowledge
An ever-increasing plethora of facts & data is not the same as wisdom
Breadth of knowledge is not the same as depth of knowledge
Multitasking is not the same as complexity
Whether it is the web or the hand held devices, addiction of sorts is here to stay. With our growing need to get breaking news and information alerts at our finger tips, we are becoming increasingly impatient as a race. We are all so driven by machines and the internet that we have virtually stopped to think and reason the results of our findings. See if you can stay off the web long enough to read it!

Some will argue that the Internet is turning us, and especially our kids, into fast-twitch airheads incapable of profound cogitation. It is important to maintain a balance between exercising our mental faculties and resorting to using the web to help us find all the answers to our problems. Let us always remember that our brains are smarter than our smart machines.

Carr (who, yes, uses the Internet) interprets a staggering amount of scientific evidence and social history to show how we shouldn't allow the Internet and its accompanying practices to dictate our lives. If you believe in all of above, get a copy of the book (hard copy) and draw your own conclusions.

Send your comments to sharad@cyber-gear.com

Visit www.sharadagarwal.com for further reading.

Archive
The Internet of Things: What It Is and Why You Should Care
Mobile Site vs Dedicated Apps
WHY YOUR BUSINESS NEEDS RWD?
How The Internet Has Changed Our Lives
2013 - ONLINE, IT IS
Twitter Power
Is Your Business Mobile?
20 Ingredients For Building An Amazing Website
My Favorite Sites
Context is King (Commiseration to Content)
Grow Your Business with QR Codes
The Future Web
Go Green With Cloud Computing
How Many Languages Does It Take To Stay Competitive Online?
2011 - Future Bytes
Online Shopping for Holiday Season
The Twitter Addiction
iPad – The Killer APPliance
e-retailing : The Competitive Advantage
CONNECT to the world with Facebook
Mind vs Media: What the Internet Is Doing to Our Brains
'Go Green' at Work
So You Think You Are Tech Savvy?
TigerText: Cover Your Tracks
The Awesome power of Google, Explained
Twitter's Business Model
iPad - Between A Smartphone And A Laptop
2010: Time to 'Go Green'
2010: Go Green with Eco-Friendly Gadgets
Mobile Marketing Is Here To Stay
2010 – No cash, No problem!
Brands that Tweet
Web 2.0 to Web 3.0: The evolution of the Web
Going Green Is Easy
Search Engine Reputation Management
The concept of 'FOREVERISM'
Stay Connected with Twitter
SELLSUMERS - If saving is the new spending, then selling is the new saving
How To Reduce Your Carbon Footprint?
Do You Tweet?
So, you have designed your web site, WHAT NEXT?
To Bing or to Google? That is the Question!
E-Transparency: The Way The Web Is Going
The Resurgence of 'Tribal Marketing'
Go Green Now
Network, Network, Network
Which is more 'Green', paper or digital?
No Clicks Required: A Glimpse Into The Future
SEO for CEO
Five Cost–Effective Tools for e–Marketing
Why 'Go Green'?
The Case for Self Serve Display Advertising: Low cost – HIGH IMPACT
In Times Of Recession, Go Online
9459