Web 2.0 to Web 3.0: The evolution of the Web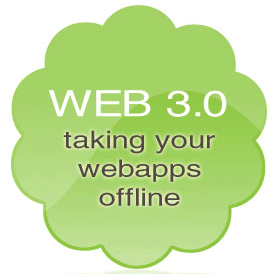 From 'Folks-onomy' to 'Me-onomy'
The web is becoming personal and mobile. Web 2.0 had the following characteristics:
The Widely Read-Write Web
Focused on Communities
Blogs
Sharing Content
XML, RSS
Web Applications
Tagging
Google
Cost per click
Rich Media, Viral
Web 3.0 is about semantic web - Personalization, intelligent search and behavioral advertising, among other things:
The Portable Personal Web
Focused on Individuals
Digital Lifestream
Consolidating Dynamic Content
The Semantic Web
Widgets, Drag & Drop Mashups
User Behavior
iGoogle
Brand Advocates
Tribevertising (FOAF- Friend of a friend!)
Some of the major players who have embraced the Web 3.0 standards are:
www.google.com/ig
www.openid.net
www.eurekster.com
www.netvibes.com
www.justin.tv
www.spock.com
www.freeset.com
www.mybloglog.com
www.friendfeed.com
www.joost.com
www.wink.com
www.last.fm
My personal favorite is
www.twine.com
.
Send your take on Web 3.0 to
sharad@cyber-gear.com
.

Archive
The Internet of Things: What It Is and Why You Should Care
Mobile Site vs Dedicated Apps
WHY YOUR BUSINESS NEEDS RWD?
How The Internet Has Changed Our Lives
2013 - ONLINE, IT IS
Twitter Power
Is Your Business Mobile?
20 Ingredients For Building An Amazing Website
My Favorite Sites
Context is King (Commiseration to Content)
Grow Your Business with QR Codes
The Future Web
Go Green With Cloud Computing
How Many Languages Does It Take To Stay Competitive Online?
2011 - Future Bytes
Online Shopping for Holiday Season
The Twitter Addiction
iPad – The Killer APPliance
e-retailing : The Competitive Advantage
CONNECT to the world with Facebook
Mind vs Media: What the Internet Is Doing to Our Brains
'Go Green' at Work
So You Think You Are Tech Savvy?
TigerText: Cover Your Tracks
The Awesome power of Google, Explained
Twitter's Business Model
iPad - Between A Smartphone And A Laptop
2010: Time to 'Go Green'
2010: Go Green with Eco-Friendly Gadgets
Mobile Marketing Is Here To Stay
2010 – No cash, No problem!
Brands that Tweet
Web 2.0 to Web 3.0: The evolution of the Web
Going Green Is Easy
Search Engine Reputation Management
The concept of 'FOREVERISM'
Stay Connected with Twitter
SELLSUMERS - If saving is the new spending, then selling is the new saving
How To Reduce Your Carbon Footprint?
Do You Tweet?
So, you have designed your web site, WHAT NEXT?
To Bing or to Google? That is the Question!
E-Transparency: The Way The Web Is Going
The Resurgence of 'Tribal Marketing'
Go Green Now
Network, Network, Network
Which is more 'Green', paper or digital?
No Clicks Required: A Glimpse Into The Future
SEO for CEO
Five Cost–Effective Tools for e–Marketing
Why 'Go Green'?
The Case for Self Serve Display Advertising: Low cost – HIGH IMPACT
In Times Of Recession, Go Online
29982