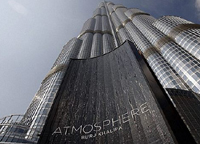 At.mosphere, envisaged as one of the world's finest luxury dining and lounge experiences, has opened doors to guests at Burj Khalifa, located in Downtown Dubai, a full-fledged lifestyle destination, described as 'The Centre of Now.'
At 442 metres (1,350 feet) high on Level 122 of Burj Khalifa, At.mosphere integrates two choices - lounge & grill. The restaurant can host over 210 guests and features a spacious arrival lobby, a main dining floor, private dining rooms and display cooking stations.
Mr Mohamed Alabbar, Chairman, Emaar Properties PJSC, the developer of Burj Khalifa, said: "At.mosphere is about offering the best in dining. Every aspect of the restaurant has been carefully designed and executed - be it the elegant decor, warm ambience, food choice and service standards."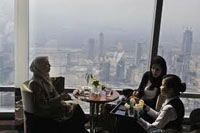 The entrance to the restaurant is through Burj Khalifa's Corporate Suites lobby with guests exiting the express elevator on Level 123 to face a two-storey glass atrium. A flight of cantilevered staircases lead them to the arrival lobby where they can enjoy panoramic views of the city.
Casual and friendly staff members greet guests, who can choose from the lounge or the grill experience. The At.mosphere grill emphasises on fresh products and healthy, simple cooking - grilled, broiled or baked. The food choice is complemented by an extensive beverage selection.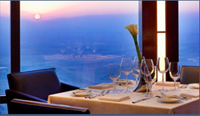 The upscale At.mosphere lounge pushes the boundaries of conventional lounges, and serves as an ideal stopover for a light lunch or even an afternoon tea. At night, the mood shifts with magnificent views of the city adding to the ambience.
Mr Marc Dardenne, Chief Executive Officer, Emaar Hospitality Group, which manages the outlet, said: "The choice of two dining concepts within At.mosphere adds to its diversity, making it the ultimate destination for not only high profile guests who seek the world's best dining out experience but also for leisure guests."
Adorned in mahogany walls and ceilings, Adam Tihany furnishings, and floors of cafe au lait limestone and hand tufted carpet, At.mosphere features a stunning beverage display and cellar.
At.mosphere is led by Executive Chef Dwayne Cheer and Director of Operations Gabriele Babini who have years of international experience.
For reservations, contact +971-48883828 or email: reservations@atmosphereburjkhalifa.com.