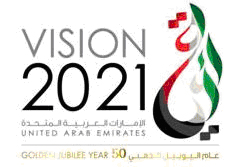 Preface: The United Arab Emirates owes a great debt of gratitude to the perseverance, wisdom, and forward vision of its founding fathers, who in those early days invested all their efforts and took careful stock of their resources in order to chart the path that has shaped our great nation. In this quest they rose to the challenge of building a modern and progressive nation, in order that the Emirati people may share in the fruits of their common development.

The UAE can count many impressive accomplishments since its inception, and now stands among the most advanced nations in the world. Emiratis have reaped many benefits from this remarkable pace of development while also preserving the fabric of their society, the essence of their way of life and the strength of their culture.

This Vision charts the next stage of our journey leading up until the year 2021, when we will celebrate the golden jubilee of our beloved union. While this Vision is inspired by the principles of our founding fathers, it is also guided by the National Work Program launched by His Highness Sheikh Khalifa Bin Zayed Al Nahyan, the President of the UAE, and adopted by Their Highnesses the Rulers of the Emirates and Members of the Federal Supreme Council.

As we look to the future and embark on a journey of empowerment at all levels. We must steer a course among challenges on many fronts with confidence, optimism and determination. There will be challenges to the family ties that bind together the strong fabric of our cohesive society; challenges to our economic competitiveness; challenges to our national identity; challenges to health, education, environment and well-being.

An ambitious nation like ours cannot achieve its goals by relying on its past achievements. We must work harder, be more innovative, more organised, and more vigilant in examining the trends and challenges that will face us. We will start with a deep and honest analysis of our current situation, taking into consideration emerging regional and international changes.

We are determined to respond proactively to all challenges in a way that will bequeath to future generations a legacy worthy of the pioneers who founded our great nation, a legacy defined by prosperity, security, stability, and a life filled with dignity and respect.