Expanding Your Business in the Middle East: How Franchising Can Help
Become part of an emerging global market efficiently
You can only achieve so much growth if you only focus on the local markets. If you desire to progress with your venture genuinely, it helps to focus on the international market. In recent years, the Middle East has emerged as a promising prospect. Nations like the UAE and Saudi Arabia are committed to diversifying their economies from fossil fuels and tourism. Let's look at how UK businesses can expand, and how to start a franchise in the Middle East with the assistance of The One World.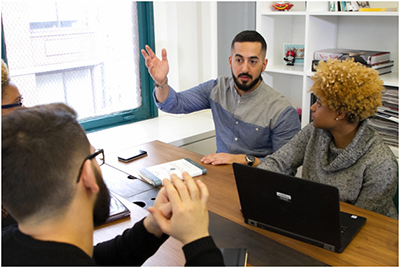 Alt tag: expanding-franchises-to-middle-east
Source: Unsplash
How Do We Help?
The One World can be your helping hand towards expanding your business franchise in the Middle East. Our experts shall detail the perks and flaws of all the options available to you, while also highlighting the intricacies of each process. One detailed session with our team, and you'll know all about the regulations and timeline, so you can plan adequately for a critical shift in your business. We also offer various advantages as detailed below.
Customised services

We can help you find experienced professionals that best suit your industry requirements.

Affordable plans

All our plans are designed to suit the scale of business. You get suitable services without exceeding your budget.

24/7 On-call assistance

Our team is dedicated to providing any and all assistance during your expansion phase.
Benefits of Expanding Through International Franchises
In a post-Brexit UK, businesses can become nervous considering massive capital investments internationally. However, setting up franchises can yield them several advantages over large-scale expansions. A few noteworthy ones include the following.
Franchising can help you test the waters with a limited number of outlets that only require a fraction of the planned expansion budget.
You can obtain high-quality, real-world data based on the practical operations of your UK-based business. It also allows you to receive customer feedback and make appropriate modifications.
Middle East franchising can help you utilise logistical and cultural advantages to expand to new markets due to the presence of strategic high-volume ports.
The franchisor can limit various liabilities and the margin for loss, as handling regular operations would be primarily up to the franchisee.
Why Choose The One World?
Thanks to our dedicated team with decades of experience between them, the One World can help you understand the nuances of Middle East franchising. We have assisted the business expansion of several organisations within the Middle East. We focus on access to quality information and professionals most suitable for the industry. If you're registered as a for-profit enterprise, we can create a customised plan so that you can set up franchises within the Middle East swiftly and efficiently.
FAQs
Is the Middle East a Good Option For Businesses?
Yes. Ever since the late 2010s, Middle Eastern countries have relaxed their regulations pertaining to foreign businesses. They offer 100% business ownership while providing a robust infrastructure within the mainland. In addition, there is no taxation on personal income or capital gain, making it a business haven for UK-based investors.
How Can UK Businesses Avail of Franchises Within the Middle East?
Although the precise steps may differ for each country, the process broadly involves the below-mentioned steps to set up a franchise in the Middle East.
Gather all required documents, including the business proposal, franchise setup application, and Ultimate Beneficial Ownership (UBO) bill copies.
Approach the body of the local regulations to set up the company name in Arabic.
Choose the appropriate industry for your business activity and register your franchise.
Obtain the trade license from the government and complete the remaining formalities, such as visa extensions and bank accounts.
Written By – Omar Shams