Souks or Arabic Markets are a cluster of shops where all kinds of goods are bought, sold and exchanged. Traditionally, dhows from the far East, China, Ceyion and India would discharge their cargoes and the goods would be haggled over in the souks adjacent to the docks. With passing times the items on sale have changed dramatically from spices, silks and perfumes to include electronic good and the latest kitsch consumer trends.
Gold Souk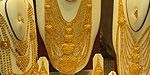 World famous Gold Souk is Dubai's Gold Souk, where narrow streets are lined with shop windows glinting with ornaments made in 22 and 24 carat gold. Along the slightly larger lanes of the gold souk, each shop window is crammed with gold necklaces, rings, bangles, ear rings and brooches. Gold prices here are among the lowest in the world. Most jewellery is 24 carat and none is less than 18 carat.

Haggling about the price is like a tradition. Take your time and plan 2 to 3 hours for your visit. The best time is the late afternoon. Usually, the shops are open until 10:00 pm. The initial unsureness in bargaining gets lost pretty quickly, and you will really enjoy "haggling" about your favourite piece.

Read more about Gold Souk
Khan Murjan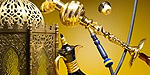 Legends from the late 14th Century tell of an ancient souk called Khan Murjan that inspired all who came upon its architectural splendour - the handcrafted marble floors, intricate wall friezes and the exquisite roofing that created rainbows upon the traders below. Eventually the sands of time swallowed the magic of Khan Murjan...until now.

Wafi has rebuilt one of history's forgotten jewels, developing Khan Murjan as an historical and cultural haven for craftspeople and artisans. More than 150 stalls offering specialised and traditional arts and crafts will be on offer, with influences drawn from as far away as Andalucia in Southern Spain to the mountains of Afghanistan. Restaurants, coffee shops and meeting areas complete the two-level subterranean souk, accessible from the mall.

Read more about Khan Murjan
Souk Madinat Jumeirah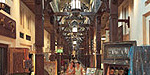 A colourful and vibrant market or part of a market in an Arabian city. Lively trading culture, animated, interactive.

Meandering paths lead visitors through a bazaar-like atmosphere in which open fronted shops and intimate galleries spill onto the paved walkways.

The sounds of craftsmen and women at work combine with the aroma from street cafés and boutique restaurants. At Souk Madinat Jumeirah, the emphasis is on unique brands, crafted quality and an interactive experience.

Read more about Souk Madinat Jumeirah
Souk Al Bahar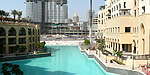 Blending a unique mix of the old and new, and celebrating Arabic heritage with contemporary and modern overtures, Souk Al Bahar features winding corridors, high archways and tranquil areas overlooking Burj Dubai, the world's tallest building.
Meena Bazaar
Since 2000 Meena Bazaar is also becoming popular to many tourists from all over the world, where you are spoilt for choice with Fashion shops, ladies wear and menswear, jewelley, restaurant, take aways and many many more.
Spice Souk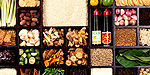 Stores in the Spice Souk sell a variety of fragrances and spices from frankincense and shisha to the many herbs used in Arabic and South Asian food. In addition, several textitles, incense, rugs and artefacts are also sold in the Spice Souk. A majority of the trading occurs through haggling.
Perfume Souk
You will find perfumes of local and international repute here. The fragrance of Arabic perfumes wafts about in the souk. The oily scents and incense sticks, especially Frankincense, are a hit here.
Disclaimer : DubaiCityGuide.com is not responsible for the content of any external site. All external sites open in a new window.