Desert Safari Tour in Dubai
Known as the jewel of the United Arab Emirates, Dubai is surrounded by desert and at the same time washed by the sea, It has some unique features of its kind that make it ideal for tourists. The city of Dubai is in fact identified a striking contrast between the Ancient Arab tradition and the characteristics of an ultra-modern metropolis city, which over the years, thanks to the richness of the sheiks, has gradually taken the appearance of the most dynamic and modern middle-eastern city. Desert Safari is a famous tour, every year thousands of visitors experience this adventure.
Overview of Desert Safari Dubai
If you want to have a glimpse towards manmade creations and spend a great time in the city adventure, then stay in the city for a few days. However, those who want to know about the great history and wonderful culture of the UAE prefer desert safari Dubai tours.
It is a panorama of dance, music, food, and fun. Professional people arrange great quality tours that make every moment enjoyable whether it is a half-day tour or overnight stay. Excellent on-roading and off-roading experience, the great thrust of adrenaline through the nerves with hair-raising activities, and pristine spread of sand dunes are some of the highlights.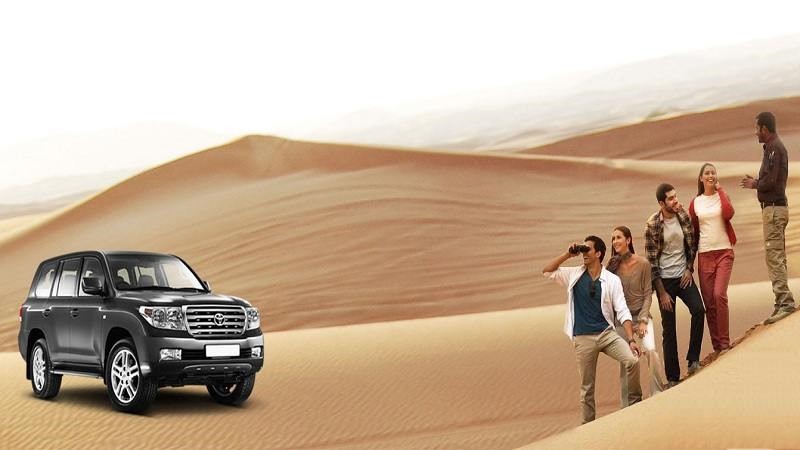 You move to the great Arabic desert famous for big mountains of golden sands called dunes. Some dunes are more than a hundred meter tall. One has to cross these dunes while going for a desert safari. It is a fantastic journey with a lot of ups and downs like a roller-coaster. Jumps and bumps make it a thrilling event know ad Dune Bashing. You ride on specially designed Land Cruises for desert. They are 4-wheel drive cars with high-efficiency, great pickup and ultimate safety on the sandy terrains. If you want to test the nerves further, then go for sand biking, dune buggy ride or quad biking. All are equally enjoyable, and selection is based on purely individual preference.
There is not only thrill and adventure but a lot of fun and entertainment too. When people stay overnight in a Bedouin-style tent, tour operators arrange a plethora of activities for them. The evening is full of enjoyment and stupendous food. Typical Arabic snacks are served with an authentic taste of BBQ. Henna tattoo artists make beautiful motifs and patterns on the hands and legs of their guests. Waiters serve Arabic coffee, sugar coated fruits, and nuts to welcome guests in a truly Arabic manner. Multiple flavours of Shisha fill the atmosphere with a mystic fragrance. Dancers perform the best numbers and traditional dance forms till late at night. Food gets served on the table, and people sit at convenient places to enjoy cultural programs and mouth-watering platters.

Cool breeze drops the temperature significantly, and guests prefer staying in the cozy tents after a fun-filled day. As there is complete silence, everyone can feel the vastness of the desert. Professional safari organizers achieve high-level perfection and make it a lifetime memorable event. These tours are available in various combinations like morning expedition, afternoon safari, full-day tour and overnight stay.
For booking your desert safari trip visit Dubai Adventures