Dubai completes world's largest 3D-printed building
A 3D-printed office building as just been completed in Dubai by Robotic construction company Apis Cor, making it the largest 3D-printed building ever built. Constructed for Dubai Municipality, the organisation has entered the Guinness Book of World Records for completing the largest 3D printed two-story structure in the world. Measuring 9.5 metres high with a floor area of 640 square metres, the building was completed outdoors to prove that the technology could handle a harsh environment without humidity and temperature control. The building sits on conventional foundations, and the 3D-printed formwork for the columns was reinforced with concrete and rebar.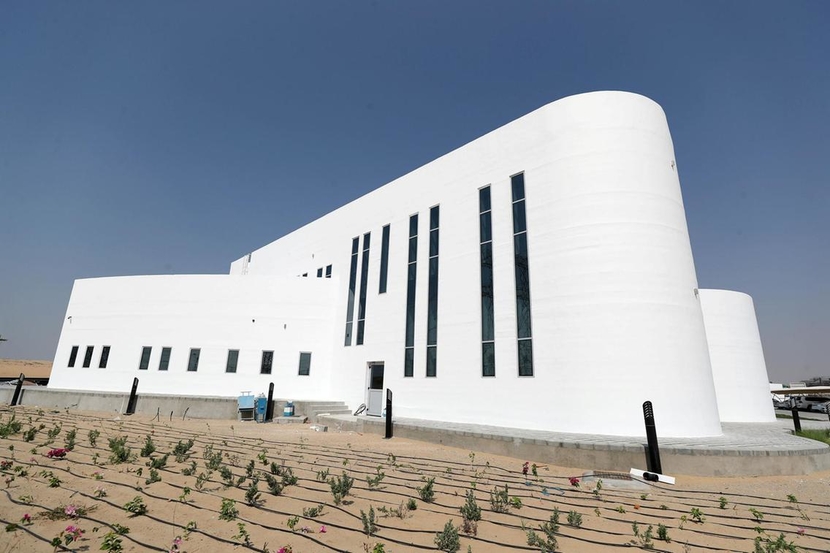 Pre-cast slabs were used for the floors, and conventional windows and roofs were added by a contractor once the walls were printed. "The two-storey building has been designed and executed with a number of spaces that can be used as rooms or offices of different sizes," Dawoud Al Hajri, Director General of Dubai Municipality said. "The walls are printed directly from the printer, unlike the traditional method of construction, which depends on the work of tightening wooden pieces with nuts and bolts, reinforcement and pouring of concrete and making bricks. "The building has been designed with different curves and shapes through which it was tested whether it can be possible for 3D printing in the construction of a variety of designs," he added The Municipality also ensured that the materials used in the mixture are local materials available in the UAE.
The printing mix created from local materials will be the Intellectual Property of Dubai Municipality as the holder of the rights of this mixture to be used at a regional level in the future. Dubai aims to construct 25% of its buildings with 3D printing technology by 2030.