Comparing Washing Machines: Fully Automatic vs. Semi-Automatic
Doing laundry has never been anybody's favorite task. It is time-consuming and will drain your whole energy. But every time we remember how this chore is done today and how it is used to be done in the past, we usually sigh in relief. Years ago, people used to hand-wash their clothes, but with technology invading every aspect of life and the invention of fully automatic and semi-automatic washing machines, laundry became much easier.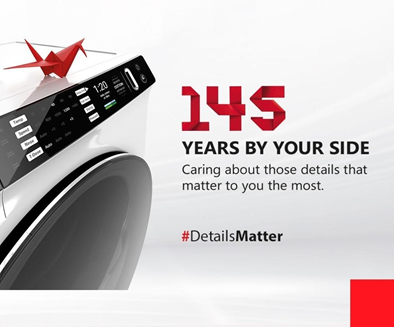 What most of us know is that the fully automatic one does all the work, all you need to do is to load your washing machine, then add detergent, and unload it when it is finished.
While in semi-automatic washers, you must do some of the work manually. Such washers consist of two tubs, one for washing and another for drying. When the washing process is done you need to manually move the clothes from the washing tub to the drying tub.
There are some key differences between semi-automatic and fully automatic washing machines that you need to consider before deciding which one to buy these include:
Space
Semi-automatic washers occupy more space. They consist of two tubs for washing and another for drying, which makes them bigger. While fully automatic washers are conveniently smaller in size, which makes them better for small spaces.
Water Consumption
Laundry is known to be one of the most consuming chores when it comes to water. Fully automatic washers need continuous water flow, which means more water use. While the semi-automatic washing machine is manually filled with water, this can help you control the amount of water you want to use and ultimately help you save on your water consumption.
Energy Consumption
In semi-automatic washers, the whole washing process takes less time which results in less energy consumption. Purchasing a semi-automatic washing machine would help you save on the electricity bill.
Convenience
There is no doubt that fully automatic washing machines are more convenient and make laundry easier and save time and effort. All you need to do is to put the clothes in the washing machine and click the button. You can do other things while waiting for it to finish. Semi-automatic washing machines are not only time-consuming but also need physical effort. You need to fill a semi-automatic washer with water manually, so if you do not own a water hose to connect to your water tab, you need to use a pocket and that can be really tiring.
Price and Varieties
Price may be one of the most important factors that some may consider before buying any sort of appliance. Given its convenient features, fully automatic washing machines are more expensive, and it has two types, top load and front load. Semi-automatic washers are less expensive but only have a top load model.
Both options have their distinguishing features. Fully automatic washing machines may be expensive, but it saves you a lot of time and effort. On the other hand, semi-automatic washers maybe less convenient, but it is cost-effective. They are cheap, and you can save a lot on electricity and water bills. In case you are looking for a new washer, Toshiba holds a diverse range of full and semi-automatic washers.