Madame Tussauds Dubai: The Ultimate Fame Experience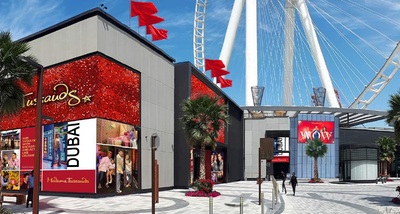 Want to meet your favourite celebrities and distinguished personalities that you had probably never dreamt of seeing? Wish to seek escapism into stardom? Grab these attractive opportunities at Madame Tussauds that prosperously opened in Bluewaters Dubai on the 14th of October! The remarkable wax museum is the very first Madame Tussauds in the GCC. Comprising of numerous celebrities, world leaders, major league sportspersons, and supermodels, it bestows upon you an interactive luminary experience like no other.
Traversing back to 1835, we learn that legendary wax sculptor Marie Grosholtz founded the Madame Tussauds Museum. Back then, rumours suggested that she crafted death masks of beheaded victims later brandished in Paris and was arrested for the same. However, once she was out of prison, she started traveling the globe displaying her eerie waxworks of chopped-off heads. Gradually, her business grew and blossomed into what's universally known by most people as "Madame Tussauds," which soon became a leading tourist attraction in London, England.
Inspired by the works of Marie Grosholtz, many aspiring and talented artists in Dubai have invested their time in beautifully creating realistic replicas out of the wax of about 60 celebrities from around the globe, with immense details and a significant amount of effort. Should you wish to strike a blow with Jackie Chan, hit sixers with the Indian Cricket Captain Virat Kohli, or indulge in an English breakfast of tea and crumpets with Her Majesty the Queen of England, feel free to because Madame Tussauds Dubai has got you all covered up. Are you a huge Bollywood fan? Well, happy days! Because you get to click pictures with some of the most iconic and renowned Bollywood actors such as Shah Rukh Khan, Amitabh Bachchan, Salman Khan, and Katrina Kaif! You also get to engage with some of the most elite Hollywood stars, such as Tom Cruise from the "Mission Impossible" franchise, Jennifer Laurence from "The Hunger Games," and the glamorous Audrey Hepburn from "Breakfast at Tiffany's"! In addition to that, if you follow football, you can kick up heels with Lionel Messi and Cristiano Ronaldo! And if you consider yourself a political person, you get to shake hands with the Prime Minister of India or the President of China and many more! The museum pays tribute to the Middle East, featuring 16 regional figures, including Balqees Fathi and other internet personalities of Dubai, such as Virgin Radio's Kris Fade.
The exciting tour within the museum is an hour long. Adult tickets cost Dh135, and for children aged 3 to 11, tickets cost Dh110. Children under the age of 3 can visit for free! Embark on this thrilling journey and explore various spheres of your choice. Make sure to take friends and family along with you to have an even more enjoyable time, and don't forget to click loads of pictures with the well-known figures and affably boast about it because that's the fun of this! Buy tickets right now so that you don't miss out on this incredible venture!