How to Treat an Ailing Economy
After the Delta strain of the Covid-19 virus started spreading in India in March 2021, it took three months to become the dominant variant in the world. Therefore, global concern about the effect of the new Omicron variant on the world economic recovery seems well-founded. As of mid-December, scientists' understanding of Omicron was incomplete, but analyses indicated to some, like US Chief Medical Advisor Dr. Anthony Fauci, that "It's going to have an advantage in transmissibility". Things may not be all that bleak, however, because many doctors believe our current vaccines will be effective against it, as they produce a "Host of different antibodies", in the words of Dr SyraMadad.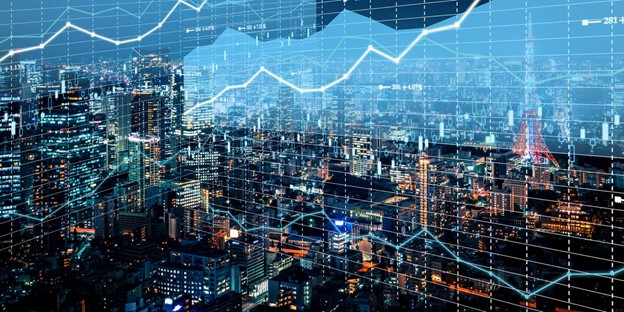 Overall, analysts are concerned about the effect of the virus on consumer demand, supply chains and, particularly, tourism, which is in the process of recovering from a very difficult year-and-a-half. "Spending on leisure and hospitality would be impacted… and especially, I think, tourism will take a big hit", comments Gad Levanon of The Conference Board. Businesses rely on large, far-reaching supply chains which can be hindered by labor shortages that follow viral outbreaks. Therefore, "If we saw more disruption and closure, that would weigh on supply chain problems that have already been an issue", suggests Paul Ashworth of Capital Economics. Let's go through some of the more relevant information you'll need to know about the Omicron variant if you plan to invest in as CFDs.
Jerome Powell
The Chairman of the US Federal Reserve Advised Congress that the Omicron variant could hold back America's economic recovery by threatening the labor market and complicating the Fed's inflation strategy. "Greater concerns about the virus could reduce people's willingness to work in person, which could slow progression in the labor market," Powell stated. He also said that potential supply chain issues together with higher energy prices could push inflation "Well above our 2% longer-run goal".
A more upbeat voice was that of Raphael Bostic of the Federal Reserve Bank of Atlanta. "We have a lot of momentum in the economy right now," said Bostic. "And that momentum, I'm hopeful, will be able to carry us through this next wave." He believes the Omicron variant won't slow down the Fed's tapering plans, and that Powell may raise interest rates twice in 2022.
The Journey of the Omicron Variant So Far
The strain was first identified in South Africa, but its origins are actually unknown. Its arrival in the USA was discovered on December 1st in California, and afterwards it was found in 24 other states. Its occurrence over the Thanksgiving holiday may have exacerbated the problem. "And [as] people gather for holidays… No one is surprised that after Thanksgiving, our numbers go up", commented Dr David Wohl of UNC Chapel Hill. There were no immediate indications of severe symptoms, but some research seemed to indicate vaccinated people might still be vulnerable to the strain. Pfizer announced, however, that a third dose of its vaccine causes a better antibody response to the strain than just the original two doses.
About a week into December, the UK knew of 336 cases of the Omicron variant within its borders. Health Minister Sajid Javid said he didn't know of any hospitalizations as a result of the strain, but that he was going to hire 10,000 vaccination workers to give out booster shots. One important move by the British government was to require Covid tests for travelers to the UK before departure. Arrivals from several African countries including Nigeria and South Africa were cut out altogether. Travelers arriving in Britain must go into isolation within two days, until they show a negative test. The Business Travel Association protested that the new travel rules were a "hammer blow" to the travel industry. They asked the government to "step up to save jobs and businesses" and to reduce the costs of Covid tests.
The Path Ahead
The kinds of effects the Omicron variant will have on the economy are not entirely clear. For example, "In the near term, you're going to have a sharp, sudden reduction in consumer demand", says Ian Bremmer of Eurasia Group. This may have the effect of lowering inflation. On the other hand, if supply chains are held up, this may push prices and inflation upward.
We'll have to keep our eye on the news for new health and economic developments to see how matters develop in the weeks to come. This is especially the case for those planning to invest in shares as CFDs, as price volatility thrives during such uncertain periods.