Landlord Directory: Long-Term vs Short-Term Rentals In Dubai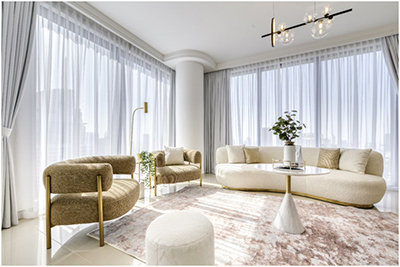 (Photo Caption: Fully furnished holiday apartment in Downtown Dubai by Deluxe Holiday Homes
Dubai's current property market has served as a mould for globetrotters and vacationers all around the world. Its multi-cultural platform has proved to be an inviting space for key stakeholders in the market.
Dubai as a high-yield market has been the host to many successful investments in the Real Estate world. Depending on the location and size of your property it can have differing outcomes. Dubai's raging tourist numbers, however,are the main reason for this positive surge. Holiday home companies in Dubaioffer a vast portfolio with fully-equipped interiors and all-inclusive bills, to accommodate guests with a hassle-free experience.
Difference between Long-term and Short-term tenancy in Dubai
Following local laws and regulations, annual tenancy contracts in Dubai require homeowners to register with the EJARI system with long-term contracts being recorded on their RERA system, to legalize contracts between tenants and landlords in Dubai. Short-term rentals however do not need to be registered and can therefore maintain a more flexible basis. However, it is important to note that all holiday homes and short-term rentals are required to be registered with the DTCM before they are open for business.
Perks of owning a short-term rental in Dubai
Put away the magnifying glass and focus on the bigger picture. Apart from the perceived costs of onboarding a property into the market, renting your property on a short-term basis can have long-term benefits and generate a higher income. In an overview, short-term rentals are seen to have greater advantages than yearly rental contracts for several reasons:
Flexibility
The main advantage of short-term rentals lies in their flexibility. Often contracts of this nature will allow landlords to have control over their homes with the option to use the property as they please.
2. Property Management
To de-complicate this process many homeowners partner with vacation rental management companies in Dubaito oversee their holiday home rental process. This is because although it is a fairly simple procedure – holiday homes need to be fully furnished apartments for rent accompanied by running amenities including electricity, water and Wi-Fi. Vacation rental management services in Dubai offer end to end property management services to take the stress off landlords.
3. Aggressive Marketing
Established property management companies in Dubaisuch as Deluxe Holiday Homes provide aggressive marketing techniques that will help your property gain the most exposure. Often these tactics include listing your property and targeted social media campaigns that would essentially help expand your scope of revenue.
4. More Rental Income
Market statistics state that homeowners that invest in short letting their property earn 20-40% more revenue than long-term renters.
Short-term rentals for one, are a great way to earn more income especially because they are generally more expensive than yearly contracts. This is due to several reasons including their maintenance and upkeep expenses as well as their ready to move setups.
5. Fewer Long-term expenses
Short-term rentals are easier to keep up with due to their short-term nature. The hidden costs and damages are one of many factors that discourage owners from short-letting their property. Damages from a previous tenant can frequently set you back a few weeks. Our in-house team, on the other hand, handles everything for you.
Furthermore, the nature of short-term rental homes allows for easier upkeep and maintenance, reducing other costs.
If you're interested in converting your investment into a long-term benefit, reach out to Dubai's leading Holiday Home operator – Deluxe Holiday Homes and get personalized support on the best ways to increase your real estate revenue.