DUBAI CITY - THE CITY OF DREAMS!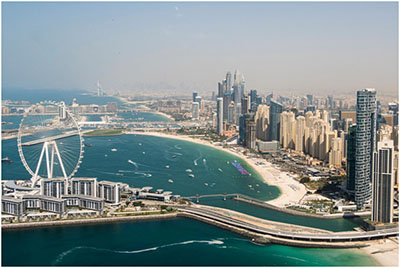 The Middle East was once considered the most war-torn region in the world. People from Western countries avoid the area for both business and tourism reasons. They have proven that it is possible to succeed despite all the difficulties. Thousands of people visit this city every year to enjoy the perfect combination of natural and artificial beauty. The government has increased the emphasis on tourism to meet the increasing demand. As a result, the main business has been converted to tourism. It is essential to understand the history of this country before you plan to visit it.
Dubai is the 2nd largest Emirates, which has created the United Arab Emirates (or UAE). It is much more developed than other emirates. Dubai's view in the 18th century was different than it is today. It was a place for anglers. It was believed to have been a fishing village. This area was settled by the Al Maktoum family in 1833. The young Sheikh Maktoum Bin Buti, with his hard work and acute leadership, has transformed this village into one of the busiest coastal areas at the time. The world is now witnessing the result of this journey. Dubai is mainly dependent on oil, gas, and other large quantities of natural resources. Everyone believes that this sector is the primary source of revenue for Dubai. Although once the country's leading business was natural resources, it is now not its primary business. The main business of the country is tourism and real estate. Only 6% of total revenue comes directly from natural resources.
Tourists from all over the globe have been drawn to the beautiful combination of weather, natural views, and landscapes. Last year, 25 million people visited Dubai for the DSF shopping event. Dubai's main attraction is to discover the entire city. It is still a mystery. This area is home to seven of the world's most prestigious hotels. Dubai and the hotel have been able to sail further away from other tourist destinations due to their distinctive sail-shaped exterior. People love to spend the whole day on Jumeirah Beach. This area offers many exciting activities. You can do windsurfing, skiing, beach volleyball, and jet skiing. Another attraction in Dubai is the artificial island Palm Jumeirah. It is a popular attraction that thousands of people enjoy seeing how beautiful artificial islands can be. The space also allows you to see the island. Two other projects, the Al Jabel palm Island and the World Project, are also in development.
The deserts are a great alternative to beaches if you don't think they have enough to captivate you or fulfill your desires. It will be an unforgettable experience for those who have never been to the deserts. Many exciting activities are available, including desert safaris, camel rides, and sand skiing. The safari club has all the equipment you need, and they will provide them.
Dubai is home to many beautiful places. The largest mosque, safari park, wild safari, and museums are the most popular. Dubai is known as a paradise for golfers, and golfers love Dubai's wormy climate and vast lands.
Shopping is another exciting part of Dubai. It will surprise you to find the low prices of every product. The most popular products are electronics, and these items are too expensive because of the duty-free shopping option. This area is trendy for diamonds and gold. The world-class quality gold of Dubai is a favorite choice for girls, especially from other countries. These items can be taken with you when you leave the country, and it is an excellent reason to visit Dubai. Remember one thing there is no casinos in Dubai but you get a option to play all types of online casino games at Big Dollar Online Casino
This country is attracting people not only to visit but also to live. This country is attracting qualified workers because of the enormous opportunities in this field. Architecture is a thriving field, especially in civil and mechanical engineering, and Dubai is home to some of the most highly-skilled engineers in the world. High salaries attract qualified workers as well as high-quality jobs. Mainly, labor is supplied by the poor neighboring countries.