Traditional Braces Vs. Invisalign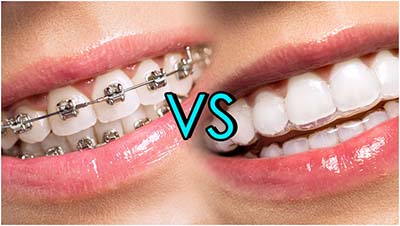 With a surge of new goods and technology, orthodontic treatments have significantly advancedover time, making it easier and quicker for patients to attain enhanced smile functioning and aesthetics. High-end cosmetic equipment and treatment techniques have eliminated the stigma surrounding braces and other orthodontic appliances, making it more straightforward for individuals to accept orthodontia.
Which orthodontic treatment is best for you among the many alternatives available today? This comparison compares conventional wire and bracket dental braces against Invisalign transparent aligners.
Traditional Braces
Traditional dental braces align teeth with crowding, protrusions, alignment problems, uneven spacing, and crookedness. Dental braces move teeth into better, more appealing positions over a specified period. Dental braces are designed for more complex situations than other orthodontic procedures.
Braces are made up of brackets and archwiresinserted across the teeth and fastened using elastic ties. The frames might be metal, ceramic, composite, or other materials. (This is a significant departure from the simple materials used in the early days of orthodontics.) In rare situations, patients may even have the brackets affixed to the back of the teeth to make them less noticeable. Patients can choose various color choices for their brackets, including gold plating! (This is since modern brackets are much smaller than older ones.)
Flexible archwires connect to the brackets and provide consistent pressure on the teeth, helping to realign them following the treatment strategy. The wires are connected to the brackets via replaceable elastic bands. Since the archwires of today are more sophisticated, repositioning takes less time and causes patients less difficulty.
Bracket and archwire installation typically take ten to twenty minutes. Adjustment sessions are necessary every three to ten weeks, and regular appointments are required to replace the elastic bands. (Tooth movement is not noticeable for at least three weeks.) After modifications, patients could feel tightness and mild pain.
Treatment times vary depending on the individual case; some take less than six to eight months to complete, while others take two or more years. Typically, a dental retainer is needed for a long time;your orthodontist will decide after the braces are removed.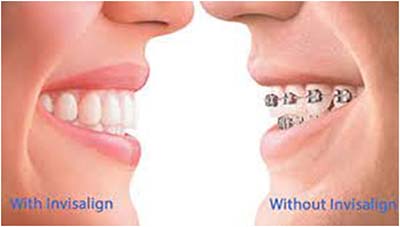 An alternative to conventional dental braces is the well-known transparent aligner brand Invisalign. Invisalign may address various dental issues, including overcrowding, widely spaced teeth, overbites, crossbites, modest relapse after conventional braces treatment, and specific bite abnormalities.
The device's beauty is what draws many individuals to an Invisalign option. Transparent aligners, often known as clear braces, are plastic appliances that are computer-manufactured and marketed as "invisible braces" because they straighten teeth without detracting from the smile's appearance. Invisalign is removable (though your dentist may advise you to limit removal for the best treatment results) and is made specifically for your teeth, so it glides smoothly over the surfaces of your teeth. Dentists recommend wearing the aligners for at least 20 hours each day, but they must be taken out for eating, drinking, brushing, and flossing.
Invisalign was released in 1999 by Align Technologies. The transparent aligner, which has a thickness of less than one millimeter, provides patients with a far less intrusive option for orthodontic treatment. Notably, major orthodontic issues cannot be treated with Invisalign aligners.
Impressions and pictures of the teeth are obtained at the first consultation. These are sent to Align's dental lab, which uses CAD/CAM technology to create the aligners. Over the course of treatment, new aligners are made to keep the teeth moving in the proper direction. During checkup appointments separated by four to six weeks, patients often get one or two sets of aligners from dentists (top and bottom). Treatment times vary; however,most patients need 20 or 30 different aligner variants. The majority of individuals finish their therapy in one year.
Are you eligible as a candidate for Invisalign?
Candidates for dental braces often need to fix teeth that are crowded, crooked, protruding, out of alignment, or have uneven spacing. Because their adult teeth have insufficient time to erupt, children under eight are often not ideal candidates for dental braces. The American Dental Association advises having children have an orthodontic assessment around the age of seven so that any issues or concerns may be addressed when they are more easily resolved.
Even while dental braces are most often associated with kids, adults might also be candidates. More than 30% of all orthodontic patients in today's population are adults. This increase in adult appeal may be partly ascribed to technological breakthroughs and improved aesthetics.
The overall oral health of the candidate for dental braces is another criterion. Before considering orthodontics, you must address any underlying dental complications, such as gum disease &tooth decay.
Candidates for Invisalign often include a smaller population than those seeking conventional dental braces. Complex malocclusions may not be treatable with Invisalign but maybe with traditional dental braces. However, Invisalign provides a faster alternative called Invisalign Express for less complicated orthodontic corrections. This is a condensed, more affordable form of Invisalign.
Adults and teens (Invisalign Teen) with fully erupted permanent teeth may currently utilize Invisalign. The uncompromising commitment to the treatment plan that comes with Invisalign, which involves taking off the aligners only for eating, drinking, cleaning, and flossing, may exclude young children from being ideal candidates. (While using the aligners, water may be ingested.)
Similar to conventional wire and bracket braces, general oral health issues, including tooth decay and gum disease, must be treated before therapy is considered.
The only specific method to know whether you qualify for an Invisalign clear aligner solution is to visit the Invisalign Doctor and have an oral health exam.