The contest giving camels the hump - By Rebecca Wicks
It's true that most women would kill for a camel's eyelashes, but other than that, they're hardly the most attractive creatures on the planet, are they? Still, we're all awaiting the results of next week's Abu Dhabi based camel beauty pagent with bated breath.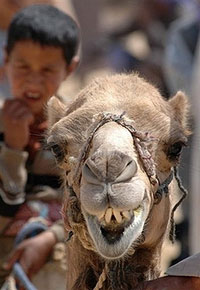 More than 10,000 camels from Bahrain, Kuwait, Oman, Qatar and Saudi Arabia will strut their humpy stuff next Wednesday, before a panel of expert judges. One can only assume what it takes to become a camel expert - let alone an expert with an extra expertise in the area of beauty. Personally, I've sat upon a camel all but once and found the whole thing rather uninspiring. It pretty much involved us plodding round in a circle as my friends and I looked at each other in a confused fashion, wondering as to the point of this added "adventurous bonus" in our desert tour.
But still, the delights of camel riding aside, the event, apparently, is part of a camel festival, which aims to celebrate and preserve the region's cultural heritage. Fair enough.
Did we mention that the lucky owners, whose camels are deemed gorgeous enough, will be awarded a not-so-shoddy total of Dhs 35 million in prize money, as well as 100 cars?
Yes, that's right. Cars.
Perhaps it's just me, but there's something kind of "off" about the whole car part. Not only are these participating camels required to be of purebred origin and free from any contagious diseases, but their proud owners are competing to win an opposing mode of transport. It's kind of like cheering your kid on in a school sports race, and then taking his mate out to dinner. So much for the camel being the "ship of the desert". Perhaps that's only true these days if you still don't have a shiny, four-wheeled alternative?
"Preserving the rich heritage of the UAE and passing it on to future generations constitutes one of the most important missions which people of the UAE wish to undertake, by connecting our culturally rich past with our aspired bright and prosperous future," festival organizer Mohammed al-Mazrouei said earlier this week.
It's all very noble and well-meaning, but surely adding to the region's ever expanding traffic jams by introducing 100 new motors, slightly contradicts his mission to re-connect us all with the past. Should he not just give away more camels instead? Maybe give EVERYONE a camel and make us give up cars together? Who needs them anyway - they just put us all in more of a rush to make the places we can't seem to reach as quickly as we used to. And why are we all in such a rush anyway?
This camel contest is making me think a little too much. Perhaps I'm being irrational. All I know, is that if I were the winning camel at the beauty pagent next Wednesday - no matter how lustrous my newly mascara-clad eyelashes looked in the light of a setting desert sun - I'd still be pretty miffed at watching my owner speed off in a car.

Posted: 03 April 2008
More Info
Tell us what you think about this article. Email us here.
Who is Rebecca Wicks? Read about her.
Archive
Little Corn, Nicaragua - a world away from Dubai
Building a house in Costa Rica
The day I became a diver...
Chilling out in the desert – An Al Maha escape
Defining the meaning of Supper Club
Colour me good, with therapy....
The cost of living in pastures new....
If I was Paris Hilton's best friend....
Time flies, it's been fun, but....
My name Blackberry, er, ....
A tailor-made treat for the masses
Dive in movies and other summer hot stuff...
Getting down to business class
Petty crime and British pigs...
Superhero midgets, big clubs and Barsha...
The highs and lows of JBR Walk
A Weekend in Yemen...
Cat-woman and the solo living plan...
Totally Addicted To Twilight...
Confessions from a tech-widow...
Geese and guilt-free cookery...
The Friday Harbour brunch high
Cirque du Soleil – more than a trip to the circus
To tweet or not to tweet?
How to work the circuit (and leave)
Money and the monkeys...
Sofa, so good
Getting intimate with the Woman in Black
Hair today, gone tomorrow - Dubai's best kept style secret
Orphans and the hands of fate
England, Dubai and the theory of Pie
Fisherman's Friends, Fois Gras & The Harbour's new high
Solidarity, skyscrapers and a surprising lack of NY resolutions
A lazy, hazy Christmas at the orphanage
The 22 degrees of Christmas
Spinach, tigers and the invisible tarantula...
Raindrops keep falling on my head...
When is savoury sweet? When it's at the Westin...
The word on the street is... fireworks
Re-biting the Big Apple...
A Living Cat-astrophe
Squirrels, lumberjacks and kneecaps
The BBC - but not as you know it…
Beards of a Feather Flock Together
Round the clock bites and delights
Jolie-Pitts - paving the way for families?
The brunch bunch
What's bugging us?
The contest giving camels the hump
The cleaning man who never was
Come az*u*r and taste the organic side to Dubai
The 7 day detox (and other dilemmas)
Swimming with the fishes…
The frog and the impossible flat hunt…
High School and the make-believe grandfather
Observing the holy month
Living in 5* squalor
HONG KONG; from the Middle to the Far East
The horse and the not-so-mad Inventor
Mother Nature's Revenge
Indian Enlightenment
Lobster season's almost here…
What a difference a lunch-break makes…
Ten run away to the mountains...
Confessions of a nail-biter
Nakheel – Masters of 'The Universe'
When good public transport systems go bad
Dubai Dreams and the impossible boxing...
Plane talking...
Prelude to a punch up
The quake that rocked a nation…
Renting, ranting and the international flat-hunt…
Letting us in on The Secret
A Shock to "the system"
The greatest discovery of all
Theatrical flashbacks and forgotten dreams...
The killer villas
Terminal thoughts...
The 7 day detox (and other dilemmas)