Who in the world is Rebecca Wicks?
Meet Rebecca, the new weekly columnist for Dubai City Guide, ready with a whole range of interesting articles for our readers. Know her better: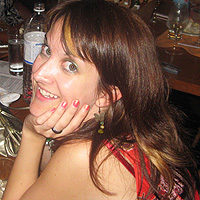 Growing up in a small, rural town in Lincolnshire, England, with grand ambitions of becoming a lollipop lady, it was never part of my life-plan to move to the Middle East and become a freelance writer. But after gaining a degree in Media Production at Lincoln University, I spent two years in New York City and saw the world change after 9/11 - two things that would have made anyone a slightly different person.
Having done my time as a coffee-making monkey in Manhattan's media world, I clawed my way up the career ladder, laptop in one hand and a double chocolate extra fat latte in the other. I wrote for various publications on the side and eventually moved back to Britain, where I spent two years in London as an online editor for a travel and lifestyle website. I also edited several London restaurant and bar guides – making me a walking entertainment information centre (and magnet for free meals in great restaurants – always good for making friends quickly!).
Braving Mother Nature's best of British evils and squishing myself onto the tube (and under the armpits of a thousand other moody commuters) every day, quickly lost its appeal, leaving me wondering "where next?" London held a million memories and a thousand lasting friendships, but as with a hundred other fed-up expats, Dubai seemed to hold an opportunity that my home country couldn't offer. And a whole lot more sunshine.
I packed my bags six months ago and haven't been back since, although I've been known to actually miss the tube when I'm stuck in a taxi on Sheikh Zayad Road in rush hour.
District Line from Mile End to Victoria - all is forgiven!
Contact Rebecca on writesitedubai@gmail.com
More Info
Tell us what you think about this article. Email us here.
Who is Rebecca Wicks? Read about her.
Archive
Little Corn, Nicaragua - a world away from Dubai
Building a house in Costa Rica
The day I became a diver...
Chilling out in the desert – An Al Maha escape
Defining the meaning of Supper Club
Colour me good, with therapy....
The cost of living in pastures new....
If I was Paris Hilton's best friend....
Time flies, it's been fun, but....
My name Blackberry, er, ....
A tailor-made treat for the masses
Dive in movies and other summer hot stuff...
Getting down to business class
Petty crime and British pigs...
Superhero midgets, big clubs and Barsha...
The highs and lows of JBR Walk
A Weekend in Yemen...
Cat-woman and the solo living plan...
Totally Addicted To Twilight...
Confessions from a tech-widow...
Geese and guilt-free cookery...
The Friday Harbour brunch high
Cirque du Soleil – more than a trip to the circus
To tweet or not to tweet?
How to work the circuit (and leave)
Money and the monkeys...
Sofa, so good
Getting intimate with the Woman in Black
Hair today, gone tomorrow - Dubai's best kept style secret
Orphans and the hands of fate
England, Dubai and the theory of Pie
Fisherman's Friends, Fois Gras & The Harbour's new high
Solidarity, skyscrapers and a surprising lack of NY resolutions
A lazy, hazy Christmas at the orphanage
The 22 degrees of Christmas
Spinach, tigers and the invisible tarantula...
Raindrops keep falling on my head...
When is savoury sweet? When it's at the Westin...
The word on the street is... fireworks
Re-biting the Big Apple...
A Living Cat-astrophe
Squirrels, lumberjacks and kneecaps
The BBC - but not as you know it…
Beards of a Feather Flock Together
Round the clock bites and delights
Jolie-Pitts - paving the way for families?
The brunch bunch
What's bugging us?
The contest giving camels the hump
The cleaning man who never was
Come az*u*r and taste the organic side to Dubai
The 7 day detox (and other dilemmas)
Swimming with the fishes…
The frog and the impossible flat hunt…
High School and the make-believe grandfather
Observing the holy month
Living in 5* squalor
HONG KONG; from the Middle to the Far East
The horse and the not-so-mad Inventor
Mother Nature's Revenge
Indian Enlightenment
Lobster season's almost here…
What a difference a lunch-break makes…
Ten run away to the mountains...
Confessions of a nail-biter
Nakheel – Masters of 'The Universe'
When good public transport systems go bad
Dubai Dreams and the impossible boxing...
Plane talking...
Prelude to a punch up
The quake that rocked a nation…
Renting, ranting and the international flat-hunt…
Letting us in on The Secret
A Shock to "the system"
The greatest discovery of all
Theatrical flashbacks and forgotten dreams...
The killer villas
Terminal thoughts...
The 7 day detox (and other dilemmas)