What a difference a lunch-break makes… - By Rebecca Wicks
Along with such changes to our lifestyles in a city that's moving so quickly, come the constant reminders that life here is a world away from the one a lot of us left behind in our home-countries.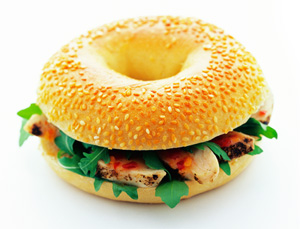 Whilst pondering my future and consequentially of course, the meaning of life, over a tuna sandwich on my lunch break yesterday, I felt the urge to note these major differences, so I'd always remember the spiritual (and physical) distance I've traveled in the space of one short year.
Only… because I was hungry, it kind of came out about food.
Still, it helps to start somewhere, so let us take a look at that solitary hour in time that many of us - the whole world over - choose to ignore; the lunch break. Just how can two cities offer two such different experiences?
Lunch hour in London:
Step 1: Exit office via lift, step onto street outside.
Step 2: Break into instant goosebumps, folding arms against chest and performing high-pitched 'brrrrrrrrr' noise for added acknowledgement of rubbish weather.
Step 3: Walk/run round corner towards nearest shop featuring pre-determined, desired edibles.
Step 4: Glare at local 'suits', all with more money than me.
Step 5: Peruse the numerous sandwich, salad, sushi, burger, chips, quiche, Chinese, Indian, Thai etc, options on offer. Make purchase.
Step 6: Head to TopShop/Zara/Sainsburys/New Look/Accessorize etc.
Step 7: Glare at local 'suits', all with more money than me.
Step 8: Spend unjustifiable amount on Visa card just because it's an easy and adrenaline-packed form of escapism from dreaded debts.
Step 9: Glare at local 'suits', all with more money than me.
Step 10: Head back to office, eat gorgeous, pre-packaged, hunger-busting lunch.
Lunch hour in Dubai:
Step 1: Exit office via lift, step outside onto four-lane motorway.
narrowly missing speeding 4x4.
Step 2: Dodge speeding taxi whilst on sand-covered zebra crossing.
Step 3: Break into instant sweat, flapping arms about to create human fan whilst feeling any unfortunate underarm fabric develop sudden wet-patch.
Step 4: Run from speeding mini-van, whilst developing instant tan.
Step 5: Glare at local 'suits', some with more money than me.
Step 6: Stand at crossing for 25 minutes, watching speeding cars.
Step 7: Cross motorway, run to middle of roundabout. Stand for 10 minutes waiting for speeding cars to stop.
Step 8: Weave through car park, glaring at 'suits', some with more money than me.
Step 9: Locate food court and decide against another polystyrene plate full of food colourings.
Step 10: Head back around corner to office, narrowly missing desert safari 4x4 collision in driveway and waiting 35 minutes for gap in traffic. Eat another samosa from work canteen.
As you can see, my tuna-sandwich based ponderings didn't really conclude all that much, apart from the fact that whatever country you're in, you inevitably put some element of your being in danger when you take that lunchtime leave.
In London, we may have Boots Meal Deals and Pret a Manger prawn cocktail on wholewheat loaf with crunchy homebaked chips and an apple (drool), but we also put ourselves in debt by a thousand more temptations.
In Dubai, the majority of us have food courts at the end of our perilous, traffic-dodging journeys, but as a result, at least most of us expats owe slightly less to a heap of clothing store credit card schemes.
Posted: 10 April 2008
More Info
Tell us what you think about this article. Email us here.
Who is Rebecca Wicks? Read about her.
Archive
Little Corn, Nicaragua - a world away from Dubai
Building a house in Costa Rica
The day I became a diver...
Chilling out in the desert – An Al Maha escape
Defining the meaning of Supper Club
Colour me good, with therapy....
The cost of living in pastures new....
If I was Paris Hilton's best friend....
Time flies, it's been fun, but....
My name Blackberry, er, ....
A tailor-made treat for the masses
Dive in movies and other summer hot stuff...
Getting down to business class
Petty crime and British pigs...
Superhero midgets, big clubs and Barsha...
The highs and lows of JBR Walk
A Weekend in Yemen...
Cat-woman and the solo living plan...
Totally Addicted To Twilight...
Confessions from a tech-widow...
Geese and guilt-free cookery...
The Friday Harbour brunch high
Cirque du Soleil – more than a trip to the circus
To tweet or not to tweet?
How to work the circuit (and leave)
Money and the monkeys...
Sofa, so good
Getting intimate with the Woman in Black
Hair today, gone tomorrow - Dubai's best kept style secret
Orphans and the hands of fate
England, Dubai and the theory of Pie
Fisherman's Friends, Fois Gras & The Harbour's new high
Solidarity, skyscrapers and a surprising lack of NY resolutions
A lazy, hazy Christmas at the orphanage
The 22 degrees of Christmas
Spinach, tigers and the invisible tarantula...
Raindrops keep falling on my head...
When is savoury sweet? When it's at the Westin...
The word on the street is... fireworks
Re-biting the Big Apple...
A Living Cat-astrophe
Squirrels, lumberjacks and kneecaps
The BBC - but not as you know it…
Beards of a Feather Flock Together
Round the clock bites and delights
Jolie-Pitts - paving the way for families?
The brunch bunch
What's bugging us?
The contest giving camels the hump
The cleaning man who never was
Come az*u*r and taste the organic side to Dubai
The 7 day detox (and other dilemmas)
Swimming with the fishes…
The frog and the impossible flat hunt…
High School and the make-believe grandfather
Observing the holy month
Living in 5* squalor
HONG KONG; from the Middle to the Far East
The horse and the not-so-mad Inventor
Mother Nature's Revenge
Indian Enlightenment
Lobster season's almost here…
What a difference a lunch-break makes…
Ten run away to the mountains...
Confessions of a nail-biter
Nakheel – Masters of 'The Universe'
When good public transport systems go bad
Dubai Dreams and the impossible boxing...
Plane talking...
Prelude to a punch up
The quake that rocked a nation…
Renting, ranting and the international flat-hunt…
Letting us in on The Secret
A Shock to "the system"
The greatest discovery of all
Theatrical flashbacks and forgotten dreams...
The killer villas
Terminal thoughts...
The 7 day detox (and other dilemmas)