A Weekend in Yemen... - By Rebecca Wicks
Last week, I went to Yemen. Now, there's a sentence I never thought would come out of my fingertips. But I did, despite warnings from absolutely everyone about potential kidnappings and men who carry AK47s to breakfast. But flights were cheap, we had nothing better to do (except move house, obviously but there's nothing quite as liberating as shirking responsibility) so we packed our wheely cases and headed off into the unknown.

Landing in Sana'a, it was obvious that we were somewhere... let's say special. Organised chaos at the airport meant it took an hour to get our visas and through immigration, but we were soon collected in a clapped-out taxi and driven to our hotel: the Sana'a Nights Tourist Hotel, to be precise. The people of Yemen like to confirm their hotels are for tourists. And tourists stand out, if not for their milky skin and protruding telephoto lenses, for their wide-eyed stares and flapping guppy mouths.

Like me, who was warned against wearing my latest flowing dress purchase from Goa " bright blue and covered in swirling flowers " most female tourists stay concealed beneath scarves and abayas, but it's advisable to go with it, out of respect. This is after all, a strict Muslim country. We rarely saw a woman who wasn't covering everything but her eyeballs.

Sana'a, if you've never cared to Google it, sits within a mountain range and thus endures the temperamental forces of Mother Nature. One minute the sky is sapphire blue, the next it's showering hailstones the size of marbles on your head. It's a city forgotten by time, yet time has taken its toll; it dates back to the Sabaean dynasty of the 6th Century BC and its multi-storey buildings of clay line the cobbled streets like gingerbread houses " icing sugar paint outlining every, tiny window.

The city has been inhabited for more than 2,500 years and wandering its streets is a bit like exploring a living fairytale. The characters are all here too " Hansel and Gretel wearing dungarees and smiles caked in grime run at you from doorways, scattering chickens and startling donkeys in their paths. The scary grandma sits huddled over piles of ripe tomatoes, her face, what can be seen of it, contorted with a cheek-full of qat, or khat " a leaf that acts as an amphetamine-like stimulant, said to have an effect much like caffeine but we weren't too sure. It tastes like what it is " leaves.

My friend pointed out, quite rightly: "when other ancient civilizations were battling with stones and grunting, there were people in Yemen building and living in multi-storey houses." It puts things into architectural perspective.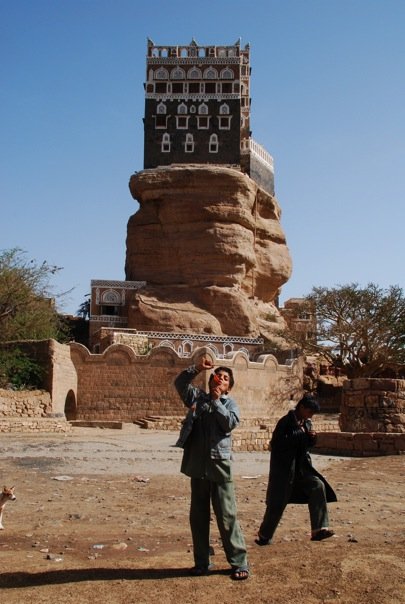 As we left bustling Sana'a with our local guide, Ahmed, the pages of our fairytale kept turning. We wove our way along perilous mountain roads in a 4x4, like a modern Jack climbing his beanstalk into the sky, and stopped to take pictures of entire villages cast into mountainsides. The ancient walls looked as though they might fall at any moment, yet children continued to race and play tag in their colourful, doll-style clothing, squishing up against the bricks, chasing bedraggled goats, dragging the hands of weary mothers from shop-front, to food-stall, never once fearing their world might suddenly crumble.

One of the most impressive sights was most definitely the Dar al Hajar, or the "Rock Palace". Constructed on top of a humungous boulder, this incredible building was once the summer haunt of the powerful Imam. It's a bit of a favorite destination for Yemeni families, as well as tourists, although the local kids followed us around like we were famous members of a pop group (great for the ego " Yemen). "Surrah, surrah!" they shout: "Take a picture, take a photo!" So we did. About 800, actually.

Stunning architecture aside, it was the people who made this weekend adventure, really. I've never encountered such amazing hospitality. At the hotel we were treated to a private dance performance (daggers and dish-dash swirling on a bright red carpet) and at the end of the trip, Ahmed, our guide, took us to his house to sample tea and his wife's homemade cake.

We saw no physical violence in Yemen, although we definitely saw guns. We never felt anything but welcomed, safe, respected and altogether absolutely awe-struck. From the gingerbread houses to the mischievous glints in the children's eyes, Yemen is one fairy story everyone should add to their collection.

Posted: 23 April 2009


More Info
Tell us what you think about this article. Email us here.
Who is Rebecca Wicks? Read about her.
Archive
Little Corn, Nicaragua - a world away from Dubai
Building a house in Costa Rica
The day I became a diver...
Chilling out in the desert – An Al Maha escape
Defining the meaning of Supper Club
Colour me good, with therapy....
The cost of living in pastures new....
If I was Paris Hilton's best friend....
Time flies, it's been fun, but....
My name Blackberry, er, ....
A tailor-made treat for the masses
Dive in movies and other summer hot stuff...
Getting down to business class
Petty crime and British pigs...
Superhero midgets, big clubs and Barsha...
The highs and lows of JBR Walk
A Weekend in Yemen...
Cat-woman and the solo living plan...
Totally Addicted To Twilight...
Confessions from a tech-widow...
Geese and guilt-free cookery...
The Friday Harbour brunch high
Cirque du Soleil – more than a trip to the circus
To tweet or not to tweet?
How to work the circuit (and leave)
Money and the monkeys...
Sofa, so good
Getting intimate with the Woman in Black
Hair today, gone tomorrow - Dubai's best kept style secret
Orphans and the hands of fate
England, Dubai and the theory of Pie
Fisherman's Friends, Fois Gras & The Harbour's new high
Solidarity, skyscrapers and a surprising lack of NY resolutions
A lazy, hazy Christmas at the orphanage
The 22 degrees of Christmas
Spinach, tigers and the invisible tarantula...
Raindrops keep falling on my head...
When is savoury sweet? When it's at the Westin...
The word on the street is... fireworks
Re-biting the Big Apple...
A Living Cat-astrophe
Squirrels, lumberjacks and kneecaps
The BBC - but not as you know it…
Beards of a Feather Flock Together
Round the clock bites and delights
Jolie-Pitts - paving the way for families?
The brunch bunch
What's bugging us?
The contest giving camels the hump
The cleaning man who never was
Come az*u*r and taste the organic side to Dubai
The 7 day detox (and other dilemmas)
Swimming with the fishes…
The frog and the impossible flat hunt…
High School and the make-believe grandfather
Observing the holy month
Living in 5* squalor
HONG KONG; from the Middle to the Far East
The horse and the not-so-mad Inventor
Mother Nature's Revenge
Indian Enlightenment
Lobster season's almost here…
What a difference a lunch-break makes…
Ten run away to the mountains...
Confessions of a nail-biter
Nakheel – Masters of 'The Universe'
When good public transport systems go bad
Dubai Dreams and the impossible boxing...
Plane talking...
Prelude to a punch up
The quake that rocked a nation…
Renting, ranting and the international flat-hunt…
Letting us in on The Secret
A Shock to "the system"
The greatest discovery of all
Theatrical flashbacks and forgotten dreams...
The killer villas
Terminal thoughts...
The 7 day detox (and other dilemmas)