What's bugging us? - By Rebecca Wicks
I just love this week's Gulf News article entitled 'Insects in your food can get you discounts'. Not only is it an interesting, insightful look into our community and the clumsy establishments imposing on our growing five-starred reputation, but I happen to think that this piece of journalism sheds a light on just how differently the people of Dubai seem to react in such horrific situations, compared to the citizens of other cities.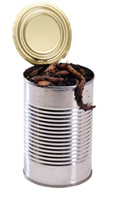 So, what happened exactly? Well, seven diners sat down to dinner in a restaurant that chooses not to be named, and found not one, but four creepy crawlies disguised as croutons. Or were they still suffering in the spaghetti, or perishing on the pizza… who knows? We're not told, obviously.
So, after these seven people had completed their meal, (that's right, they all sat there in relative silence, politely eating around the insects), they finally saw it fit to mention these crunchy added extras. After a minor scuffle in the kitchen, they were promptly issued a bill, which offered a 25 percent discount. Next to the deduction, someone had scrawled "bug on food" as the reason.
Well, quite clearly, these diners were outraged. They were outraged at the audacity of the giggling restaurant employees, making a joke out of their need to offer a discount. They were not, however, enraged enough at the bugs in their food to stand up, scream for the manager and storm off without paying.
On noticing his customer's displeasure at the offensive comment on the bill, the Operations Manager said:
"I agree that the 'bug on food' detail on the receipt was an inappropriate detail. It was a misunderstanding from our side - the guys thought being friendly and having a joke about the environment would relax the diners because it was a birthday, but unfortunately it didn't.
"It was a misunderstanding in the way it has been managed, it's not mis-management."
I'm not entirely sure what those last two sentences mean, exactly. If you find yourself feeling angry about a misunderstanding in the way something's been managed, it pretty much means to me that something's been managed quite badly, but still, the main issue here is that these seven friends, on one person's birthday no less, sat through a meal after finding bugs in their food, and still stuck around long enough to listen to badly-worded attempts at justifying the whole thing.
If that was my birthday party, I'd have cried like a baby and thrown a tantrum before hightailing it out the door to the next place. A waiter making a "joke about the environment" is one thing, but if I've had my hair curled and my bikini line waxed and donned a new frock in preparation for my special annual day, the last thing I'm going to find funny is a bonus floating bug in my starter.
This whole thing makes me quite suspicious. I once saw a lady in New York stand up in a restaurant, proclaim her cheesecake to be inedible, and storm out. I've seen restaurants in London back-streets close because someone's friend's cleaner who used to eat there saw a rat dropping three feet away, outside on the pavement.
This Dubai based insect incident could well be an absolutely genius concept devised either by the unfortunate restaurant to generate PR, or by the hungry, impoverished group of unnamed students looking for a clever trick to bag a discount.
But it's probably not.
Here in Dubai it seems there's no deceit involved; no trickery; no blatant play on the restaurant industry's shrinking portions in relation to their extravagant prices. It's just an honest, and quite frankly, disgusting accident that was handled quite badly.
Perhaps, thanks to existing in a world of sunshine, we're just not as bitter as New Yorkers. Thanks to having a multitude of friendly, laid back people willing to share their jokes and different dishes in places they're as proud of as their own homes, maybe we're a nicer nation in general. Or at least not as angry as Londoner's. Perhaps, when we really think about, a few bugs in our food really isn't that much of a big deal; especially when elsewhere in the world, people have a lot more than deep-friend insects on their plates.
And anyway, now that the Gulf News has quite clearly stated that such additions can score you discounts, I'm sure I won't be the only one carrying crickets round in my fake Chanel purse.
Posted: 27 March 2008
More Info
Tell us what you think about this article. Email us here.
Who is Rebecca Wicks? Read about her.
Archive
Little Corn, Nicaragua - a world away from Dubai
Building a house in Costa Rica
The day I became a diver...
Chilling out in the desert – An Al Maha escape
Defining the meaning of Supper Club
Colour me good, with therapy....
The cost of living in pastures new....
If I was Paris Hilton's best friend....
Time flies, it's been fun, but....
My name Blackberry, er, ....
A tailor-made treat for the masses
Dive in movies and other summer hot stuff...
Getting down to business class
Petty crime and British pigs...
Superhero midgets, big clubs and Barsha...
The highs and lows of JBR Walk
A Weekend in Yemen...
Cat-woman and the solo living plan...
Totally Addicted To Twilight...
Confessions from a tech-widow...
Geese and guilt-free cookery...
The Friday Harbour brunch high
Cirque du Soleil – more than a trip to the circus
To tweet or not to tweet?
How to work the circuit (and leave)
Money and the monkeys...
Sofa, so good
Getting intimate with the Woman in Black
Hair today, gone tomorrow - Dubai's best kept style secret
Orphans and the hands of fate
England, Dubai and the theory of Pie
Fisherman's Friends, Fois Gras & The Harbour's new high
Solidarity, skyscrapers and a surprising lack of NY resolutions
A lazy, hazy Christmas at the orphanage
The 22 degrees of Christmas
Spinach, tigers and the invisible tarantula...
Raindrops keep falling on my head...
When is savoury sweet? When it's at the Westin...
The word on the street is... fireworks
Re-biting the Big Apple...
A Living Cat-astrophe
Squirrels, lumberjacks and kneecaps
The BBC - but not as you know it…
Beards of a Feather Flock Together
Round the clock bites and delights
Jolie-Pitts - paving the way for families?
The brunch bunch
What's bugging us?
The contest giving camels the hump
The cleaning man who never was
Come az*u*r and taste the organic side to Dubai
The 7 day detox (and other dilemmas)
Swimming with the fishes…
The frog and the impossible flat hunt…
High School and the make-believe grandfather
Observing the holy month
Living in 5* squalor
HONG KONG; from the Middle to the Far East
The horse and the not-so-mad Inventor
Mother Nature's Revenge
Indian Enlightenment
Lobster season's almost here…
What a difference a lunch-break makes…
Ten run away to the mountains...
Confessions of a nail-biter
Nakheel – Masters of 'The Universe'
When good public transport systems go bad
Dubai Dreams and the impossible boxing...
Plane talking...
Prelude to a punch up
The quake that rocked a nation…
Renting, ranting and the international flat-hunt…
Letting us in on The Secret
A Shock to "the system"
The greatest discovery of all
Theatrical flashbacks and forgotten dreams...
The killer villas
Terminal thoughts...
The 7 day detox (and other dilemmas)