Jolie-Pitts - paving the way for families? - By Rebecca Wicks
The luckiest lady in town at the moment, must be Christina Lawson of Zabeel Properties. She's the one who got to speak to Brad Pitt recently, about his brand new design project - an 800-room, five-star attraction, right here in Dubai. We're awaiting its arrival with baited breath, I'm sure, but let's be honest here… we already have a hundred luxurious building developments to get excited about. What we're really looking forward to the most, at least, what the ladies here are looking forward to the most, is the Jolie-Pitts rocking up in town.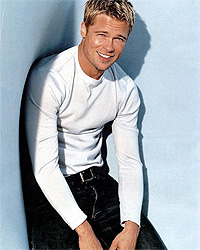 "It's safe to say Pitt will be a regular in Dubai while the hotel and resort is being constructed," said the paper this week. And I'm sure my heart was not alone in its little ceremonious flutter.

We wanna see Ange and little Shilo, skiing in the Mall of Emirates. We wanna bump into them in H&M as we're trying on trousers. We wanna spot her and Brad dining out in Jonny Rockets, putting us on the map for a city devoted to improving family life. We already know that they can lure in the masses based on looks alone, but will a glamorous extension of their glitzy lives in the form of another hotel really be enough to satisfy us?

Most of us won't even be able to afford to step inside, once it opens. And what can they possibly offer that we haven't seen before? No, what we really need is a proper, famous, Hollywood family in town, something real and sought-after that hasn't been dug out of an ocean, re-modeled in marble, or made out of sand. We need to admire some real people for a change, not more reconstructions, blueprints and promises. Our modern, media-influenced society actually likes to know, deep down, just a little bit, that celebrities, Hollywood and major media influences approve of something, before we really buy into an idea these days. Oh come on… it's true.

Now that Brad and Ange are involved, perhaps we can expect some real changes. Maybe Bruce Willis will jet in and finally save Satwa. Perhaps Lindsay Lohan will realize that Dubai's serene spas and beaches, combined with our delightful lack of chemically imbalanced people, is the medicine she really needs to sort her life out. The world will listen and the world will join her. Where they're all supposed to stay when they get here, of course, is another matter.

Brad and Ange are family people, at the end of the day. They might not be planning to bring up their ever-expanding brood on our shores, full-time, but the fact that they've already snagged a spot on the Palm, and now want to construct an enticing, showbizzy entertainment development is probably not the most intriguing thing in this story. The press should make a bigger deal out of the fact that this highly-admired and devoted couple obviously see our city as a place for families. This is the point that stands out, to me at least, especially in a time where anger is mounting over traffic, impending taxes and the knocking-down of Satwa homes to make way for a more sparkling city. It's not all bad if Brangelina - the biggest globe-trotting do-gooders, get the plan behind it.

"He is not going to be the face of the project but will actually be a part of the design and overall feel of the building. He will 'be' a part of Dubai when it's complete," reported the Gulf News earlier this week.

Hollywood is so last season. New York is so passé. To the couple who can go anywhere in the world, and throw their money and fame in any direction they please, Dubai is worth some serious time and investment. They've bought into the vision. They've envisaged the dream.

What this means for the future of Dubai is not another five-star development project. It means that the world is waking up to the fact that we are the future. And that's a pretty nice thing to know, as the dreaded summer makes us wonder what the heck we're all doing here.

Posted: 05 June 2008
More Info
Tell us what you think about this article. Email us here.
Who is Rebecca Wicks? Read about her.
Archive
Little Corn, Nicaragua - a world away from Dubai
Building a house in Costa Rica
The day I became a diver...
Chilling out in the desert – An Al Maha escape
Defining the meaning of Supper Club
Colour me good, with therapy....
The cost of living in pastures new....
If I was Paris Hilton's best friend....
Time flies, it's been fun, but....
My name Blackberry, er, ....
A tailor-made treat for the masses
Dive in movies and other summer hot stuff...
Getting down to business class
Petty crime and British pigs...
Superhero midgets, big clubs and Barsha...
The highs and lows of JBR Walk
A Weekend in Yemen...
Cat-woman and the solo living plan...
Totally Addicted To Twilight...
Confessions from a tech-widow...
Geese and guilt-free cookery...
The Friday Harbour brunch high
Cirque du Soleil – more than a trip to the circus
To tweet or not to tweet?
How to work the circuit (and leave)
Money and the monkeys...
Sofa, so good
Getting intimate with the Woman in Black
Hair today, gone tomorrow - Dubai's best kept style secret
Orphans and the hands of fate
England, Dubai and the theory of Pie
Fisherman's Friends, Fois Gras & The Harbour's new high
Solidarity, skyscrapers and a surprising lack of NY resolutions
A lazy, hazy Christmas at the orphanage
The 22 degrees of Christmas
Spinach, tigers and the invisible tarantula...
Raindrops keep falling on my head...
When is savoury sweet? When it's at the Westin...
The word on the street is... fireworks
Re-biting the Big Apple...
A Living Cat-astrophe
Squirrels, lumberjacks and kneecaps
The BBC - but not as you know it…
Beards of a Feather Flock Together
Round the clock bites and delights
Jolie-Pitts - paving the way for families?
The brunch bunch
What's bugging us?
The contest giving camels the hump
The cleaning man who never was
Come az*u*r and taste the organic side to Dubai
The 7 day detox (and other dilemmas)
Swimming with the fishes…
The frog and the impossible flat hunt…
High School and the make-believe grandfather
Observing the holy month
Living in 5* squalor
HONG KONG; from the Middle to the Far East
The horse and the not-so-mad Inventor
Mother Nature's Revenge
Indian Enlightenment
Lobster season's almost here…
What a difference a lunch-break makes…
Ten run away to the mountains...
Confessions of a nail-biter
Nakheel – Masters of 'The Universe'
When good public transport systems go bad
Dubai Dreams and the impossible boxing...
Plane talking...
Prelude to a punch up
The quake that rocked a nation…
Renting, ranting and the international flat-hunt…
Letting us in on The Secret
A Shock to "the system"
The greatest discovery of all
Theatrical flashbacks and forgotten dreams...
The killer villas
Terminal thoughts...
The 7 day detox (and other dilemmas)