Mother Nature's Revenge - By Rebecca Wicks
I woke up with flu this morning. Hot and cold sweats and a feeling of nausea prevailed until I was forced to walk to the pharmacy. The lady looked at me sympathetically, handed me some ibuprofen and said "Ah, the weather's changing." I think that's the reason for every illness here. When it suddenly got quite chilly last December and I had the sniffles, she said exactly the same thing as she slipped me some Lemsip.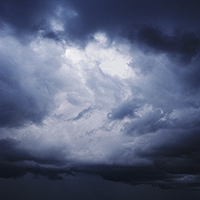 I suppose there's something quite comforting in the fact that the weather's to blame, though. When I lived in New York and found myself with the sniffles, it was pretty much always because of that runny-nosed homeless man who nudged me on the corner of Broadway. When I lived in London and woke with a cough, it was clearly all thanks to the pesky teen reprobate chucking used tissues about and smoking cigarettes on the back of the number 8 bus.
At least for us desert-dwellers, fooling ourselves that we're living the cosmopolitan dream, there's never anything incredibly ominous at the root of our minor illnesses. And aside from the flash floods of a couple of months back, at least we pretty much know what to expect, most of the time.
We've all heard about the earthquake that happened in England last week. It was the biggest the country's experienced in 25 years and was totally unexpected. I think a hairbrush fell off a mantelpiece somewhere and a few pieces of china most definitely rattled in places closer to the epicenter - a small town close to my parent's home, called Market Rasen.
Mum wrote me an email after hearing what had happened on the news and said she'd thought it was a lorry going past. She woke up for about three minutes and then went back to sleep, oblivious to the earth-shattering event she had just witnessed. For a whole day, everyone had something to talk about in a town where the only exciting thing to have ever happened before, was when some bloke who used to live there wrote some lyrics that went on to be used by Michael Jackson.
Thankfully, no one was killed and only one person had to wear a band-aid for a while as a result of this sudden event. But wait! This week there's even more excitement - winds of up to 80km an hour have been battering British shores. Mother Nature's going crazy.
Just the other day, thirty unfortunate souls had to be rescued from a beachfront caravan park, after crashing waves flooded the site. Shocking. Coastguard rescue officers were apparently called in to help. We probably shouldn't say it was their own fault for booking a holiday in a caravan park in the first place - but these things are frightening, none-the-less. Imagine reclining on your two by three foot floral patterned bench, gearing up to watch some snooker on your black and white telly, only to feel your deluxe three-berther being battered by gale-force winds from all directions. Before you know it, your Tetley tea's been spilled all over your new Carrefour sleeping bag and there's a helicopter hovering over the space where the port-a-loo used to stand. These things never used to happen in Britain.
Global warming is quite possibly at fault and if this is the case, it's probably only going to get worse. The next English earthquake might even make a few dogs bark or a slate fall off a roof. Last week a number of US bound flights were diverted to Birmingham International Airport because of the weather - a tragedy in itself. It's not entirely clear how long they had to spend in Birmingham (or if anyone got out unscathed) but elsewhere, 18 trees blew over. Terrible. It's just all going wrong.
The whole thing puts my flu into perspective, really. As long as the changing weather in Dubai is bringing me the shakes and not shaking up my entire apartment and knocking my pot plants over (we don't have many trees, where I live), I think I can deal with it.

Posted: 13 March 2008
More Info
Tell us what you think about this article. Email us here.
Who is Rebecca Wicks? Read about her.
Archive
Little Corn, Nicaragua - a world away from Dubai
Building a house in Costa Rica
The day I became a diver...
Chilling out in the desert – An Al Maha escape
Defining the meaning of Supper Club
Colour me good, with therapy....
The cost of living in pastures new....
If I was Paris Hilton's best friend....
Time flies, it's been fun, but....
My name Blackberry, er, ....
A tailor-made treat for the masses
Dive in movies and other summer hot stuff...
Getting down to business class
Petty crime and British pigs...
Superhero midgets, big clubs and Barsha...
The highs and lows of JBR Walk
A Weekend in Yemen...
Cat-woman and the solo living plan...
Totally Addicted To Twilight...
Confessions from a tech-widow...
Geese and guilt-free cookery...
The Friday Harbour brunch high
Cirque du Soleil – more than a trip to the circus
To tweet or not to tweet?
How to work the circuit (and leave)
Money and the monkeys...
Sofa, so good
Getting intimate with the Woman in Black
Hair today, gone tomorrow - Dubai's best kept style secret
Orphans and the hands of fate
England, Dubai and the theory of Pie
Fisherman's Friends, Fois Gras & The Harbour's new high
Solidarity, skyscrapers and a surprising lack of NY resolutions
A lazy, hazy Christmas at the orphanage
The 22 degrees of Christmas
Spinach, tigers and the invisible tarantula...
Raindrops keep falling on my head...
When is savoury sweet? When it's at the Westin...
The word on the street is... fireworks
Re-biting the Big Apple...
A Living Cat-astrophe
Squirrels, lumberjacks and kneecaps
The BBC - but not as you know it…
Beards of a Feather Flock Together
Round the clock bites and delights
Jolie-Pitts - paving the way for families?
The brunch bunch
What's bugging us?
The contest giving camels the hump
The cleaning man who never was
Come az*u*r and taste the organic side to Dubai
The 7 day detox (and other dilemmas)
Swimming with the fishes…
The frog and the impossible flat hunt…
High School and the make-believe grandfather
Observing the holy month
Living in 5* squalor
HONG KONG; from the Middle to the Far East
The horse and the not-so-mad Inventor
Mother Nature's Revenge
Indian Enlightenment
Lobster season's almost here…
What a difference a lunch-break makes…
Ten run away to the mountains...
Confessions of a nail-biter
Nakheel – Masters of 'The Universe'
When good public transport systems go bad
Dubai Dreams and the impossible boxing...
Plane talking...
Prelude to a punch up
The quake that rocked a nation…
Renting, ranting and the international flat-hunt…
Letting us in on The Secret
A Shock to "the system"
The greatest discovery of all
Theatrical flashbacks and forgotten dreams...
The killer villas
Terminal thoughts...
The 7 day detox (and other dilemmas)