A Shock to "the system" - By Rebecca Wicks
News came in this week that Dubai's new Metro is probably going to be finished ahead of schedule. That's right, fellow expats and train-enthusiasts, you read it right; parts of the world's largest automated Metro project are wrapping up early.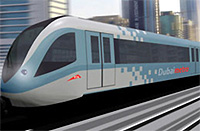 Of course, upon hearing this news, my London trained ears pricked up immediately. I felt a protective shield of cynicism snake itself around my heart, not wanting to get hurt again. Not wanting it to be like before. You can't say things like this to us ex Londoners, really, not unless you mean it. The words 'Metro', and 'train' simply don't co-exist harmoniously with the line 'ahead of schedule'. Do they?
I've been through enough schedule-related pain to last a lifetime. Back when I was a happy-go-lucky young Londoner, travelling to work on the tube, I started out with a jolly smile and the kind of blessed optimism felt only by an innocent commuter before experiencing the underground rush hour. Naturally, it was barely a week before I too had adopted the "head down and scowl" policy. My happiness had more often than not abandoned me by the time I'd squished myself semi-comfortably into the armpit of an odorous stranger, just to get a space on the Victoria Line… if the train turned up at all.
By the time I left London, it was a rare blessing if I reached my nearest tube station and found the trains running. Days of "work on the tracks" turned into months, which then turned into several permanent closures. Most closures went unmentioned. Quite often I wouldn't notice anything was wrong until, after 40 minutes of silence, the only other people still waiting to board alongside me were a homeless man with questionable smells emanating from his trousers and a clubber, still dancing to the beat of his own drum, covered in ketchup.
Here in Dubai, they're calling the Metro operation 999, because apparently the first line will start moving on September 9, 2009; exactly when they said it would, when first they laid these 15.5 billion dirham plans. I'm still trying to get my head around it. What, no leaves on the line? No stray specks of sand, or tracks bent in the heat, or work-related misery induced suicide? Surely there must have been something holding them up?
Someone official, said: "We are right on schedule and have achieved a number of milestones ahead of time…
"People in Dubai will see the trains running on the test track on Sheikh Zayed Road by the end of April."
And it must be true - the trains are already arriving.
It's true that Dubai has more money at its disposal right now to make such dreams a reality, but it's still quite clear that London needs to pay attention. Of course, being such an ancient system, there are things they can't fix and modernise, but there's still no excuse for the abysmal work ethics seemingly behind this reconstruction. It definitely doesn't justify the the cost of a weekly travel card (almost Dhs160 for zones one and two).
Also interesting is the fact that even after all this "work", London's tube trains still don't even have air-con, or wireless Internet, or women-only carriages. (Quite often they have 'inebriated-only' carriages, but I'm pretty sure that's not intentional). Just what are these people doing down there all day, in dark and dingy tunnels, besides drinking tea and befriending rat colonies?
If Dubai can dig a tunnel under a creek and get 25,000 labourers working round the clock to cause as little disruption as possible, and still get it all done ahead of schedule, here's to hoping other major cities take inspiration from its plans.
Of course, they'll have to coax us ex-Londoners out of our houses once they open it and prove that it really is running. Jaded and tired of empty promises, most of us are left doubting that even a driverless, automated train can actually show up on time.

Posted: 19 March 2008
More Info
Tell us what you think about this article. Email us here.
Who is Rebecca Wicks? Read about her.
Archive
Little Corn, Nicaragua - a world away from Dubai
Building a house in Costa Rica
The day I became a diver...
Chilling out in the desert – An Al Maha escape
Defining the meaning of Supper Club
Colour me good, with therapy....
The cost of living in pastures new....
If I was Paris Hilton's best friend....
Time flies, it's been fun, but....
My name Blackberry, er, ....
A tailor-made treat for the masses
Dive in movies and other summer hot stuff...
Getting down to business class
Petty crime and British pigs...
Superhero midgets, big clubs and Barsha...
The highs and lows of JBR Walk
A Weekend in Yemen...
Cat-woman and the solo living plan...
Totally Addicted To Twilight...
Confessions from a tech-widow...
Geese and guilt-free cookery...
The Friday Harbour brunch high
Cirque du Soleil – more than a trip to the circus
To tweet or not to tweet?
How to work the circuit (and leave)
Money and the monkeys...
Sofa, so good
Getting intimate with the Woman in Black
Hair today, gone tomorrow - Dubai's best kept style secret
Orphans and the hands of fate
England, Dubai and the theory of Pie
Fisherman's Friends, Fois Gras & The Harbour's new high
Solidarity, skyscrapers and a surprising lack of NY resolutions
A lazy, hazy Christmas at the orphanage
The 22 degrees of Christmas
Spinach, tigers and the invisible tarantula...
Raindrops keep falling on my head...
When is savoury sweet? When it's at the Westin...
The word on the street is... fireworks
Re-biting the Big Apple...
A Living Cat-astrophe
Squirrels, lumberjacks and kneecaps
The BBC - but not as you know it…
Beards of a Feather Flock Together
Round the clock bites and delights
Jolie-Pitts - paving the way for families?
The brunch bunch
What's bugging us?
The contest giving camels the hump
The cleaning man who never was
Come az*u*r and taste the organic side to Dubai
The 7 day detox (and other dilemmas)
Swimming with the fishes…
The frog and the impossible flat hunt…
High School and the make-believe grandfather
Observing the holy month
Living in 5* squalor
HONG KONG; from the Middle to the Far East
The horse and the not-so-mad Inventor
Mother Nature's Revenge
Indian Enlightenment
Lobster season's almost here…
What a difference a lunch-break makes…
Ten run away to the mountains...
Confessions of a nail-biter
Nakheel – Masters of 'The Universe'
When good public transport systems go bad
Dubai Dreams and the impossible boxing...
Plane talking...
Prelude to a punch up
The quake that rocked a nation…
Renting, ranting and the international flat-hunt…
Letting us in on The Secret
A Shock to "the system"
The greatest discovery of all
Theatrical flashbacks and forgotten dreams...
The killer villas
Terminal thoughts...
The 7 day detox (and other dilemmas)