Lobster season's almost here… - By Rebecca Wicks
Yesterday, on climbing into a friend's car, the dashboard showed the outdoor temperature at 39.5 degrees. Now, if you don't live in Dubai and can't quite comprehend this heat - it's really hot. However, it's nothing compared to what lies ahead. It is in fact, the teasing wink of summer's impending arrival; the semi-exposed thigh before a model-clad catwalk frenzy; a mild summer day in the savage desert, as gentle to us as a spring lamb.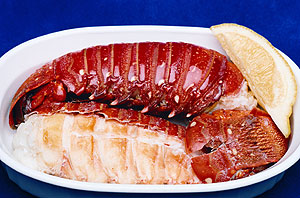 I remember my parents coming to stay last year, after listening to me moan about a summer of misery - a traumatic few months of my glasses steaming up every time I left the office building and feeling like I needed a shower, ten minutes after taking one. "It's not that bad" said Dad, when he touched down at the end of October. I felt like taking him into the sauna in his clothes, with all his luggage (the equivalent of one of my handbags, probably) and turning up the heat to 50-plus. Because that's what we had to deal with, before he arrived.

Needless to say, the indoor season is almost upon us. A few more weeks, I reckon, and it'll be out with the jeans and in with the flowing skirts. Everything will need more room to breathe. It'll be back to brunches on Fridays, instead of lazing on the sandy shores (what a chore, huh?). Everything will slow down. The roads will be quieter as families migrate, leaving a thousand husbands alone to sweat it out on their own… to bring home the big bucks, and/or go to brunches with their mates, come home late, stay up all night watching sports, and all the other stuff they're not usually allowed to do.

Summer in Dubai, for those reading from afar, is unlike any other summer in a city. New York's concrete buildings capture the heat in the hotter months, turning Manhattan into a suffocating monster, but there ain't no sandy shores to make you crave the ocean. London of course, is plagued by impromptu rain showers, leaving most to wonder whether summer ever really arrived at all. But just as the western world rolls the deckchairs outside and winds down the sunroofs they've dared to install, Dubai's outdoor hotspots shut up shop. The outside world is avoided at all costs. Even crossing the path from your office to your car is a treacherous voyage of inevitable humidity-related doom. No armpit is safe, no anti-perspirant is strong enough, no exposed flesh is free from blistering without lashings and lashings of sunscreen.

Of course, the British attitude remains, wherever the Brits might set up home. Back in London, it's shirts off in Hyde Park at the very first sight of a sunbeam. There is no shame. And it's not unusual here to find one brave British soldier lying on a Jumeirah beach in August, roasting himself like a chicken on a spit, thinking his milk-bottle skin will relish the chance for some sunshine. Clearly he can't move the next day and all his colleagues are whispering about "lobsters" every time he swivels weakly across the office to the printer. He won't do it again.

Ah yes, as summer waves its unwelcome hand from a distance, us desert-dwellers shudder and thoughts of running away circle our skulls as we sit before our computer screens, browsing for holiday destinations. It might seem like a holiday sometimes, living in Dubai. But when summer creeps around us, we have nothing left to brag about. After all, who's going to believe you live in "the greatest city on earth" when you're soaked with sweat and redder than a BBQ'd lobster?

Posted: 29 May 2008
More Info
Tell us what you think about this article. Email us here.
Who is Rebecca Wicks? Read about her.
Archive
Little Corn, Nicaragua - a world away from Dubai
Building a house in Costa Rica
The day I became a diver...
Chilling out in the desert – An Al Maha escape
Defining the meaning of Supper Club
Colour me good, with therapy....
The cost of living in pastures new....
If I was Paris Hilton's best friend....
Time flies, it's been fun, but....
My name Blackberry, er, ....
A tailor-made treat for the masses
Dive in movies and other summer hot stuff...
Getting down to business class
Petty crime and British pigs...
Superhero midgets, big clubs and Barsha...
The highs and lows of JBR Walk
A Weekend in Yemen...
Cat-woman and the solo living plan...
Totally Addicted To Twilight...
Confessions from a tech-widow...
Geese and guilt-free cookery...
The Friday Harbour brunch high
Cirque du Soleil – more than a trip to the circus
To tweet or not to tweet?
How to work the circuit (and leave)
Money and the monkeys...
Sofa, so good
Getting intimate with the Woman in Black
Hair today, gone tomorrow - Dubai's best kept style secret
Orphans and the hands of fate
England, Dubai and the theory of Pie
Fisherman's Friends, Fois Gras & The Harbour's new high
Solidarity, skyscrapers and a surprising lack of NY resolutions
A lazy, hazy Christmas at the orphanage
The 22 degrees of Christmas
Spinach, tigers and the invisible tarantula...
Raindrops keep falling on my head...
When is savoury sweet? When it's at the Westin...
The word on the street is... fireworks
Re-biting the Big Apple...
A Living Cat-astrophe
Squirrels, lumberjacks and kneecaps
The BBC - but not as you know it…
Beards of a Feather Flock Together
Round the clock bites and delights
Jolie-Pitts - paving the way for families?
The brunch bunch
What's bugging us?
The contest giving camels the hump
The cleaning man who never was
Come az*u*r and taste the organic side to Dubai
The 7 day detox (and other dilemmas)
Swimming with the fishes…
The frog and the impossible flat hunt…
High School and the make-believe grandfather
Observing the holy month
Living in 5* squalor
HONG KONG; from the Middle to the Far East
The horse and the not-so-mad Inventor
Mother Nature's Revenge
Indian Enlightenment
Lobster season's almost here…
What a difference a lunch-break makes…
Ten run away to the mountains...
Confessions of a nail-biter
Nakheel – Masters of 'The Universe'
When good public transport systems go bad
Dubai Dreams and the impossible boxing...
Plane talking...
Prelude to a punch up
The quake that rocked a nation…
Renting, ranting and the international flat-hunt…
Letting us in on The Secret
A Shock to "the system"
The greatest discovery of all
Theatrical flashbacks and forgotten dreams...
The killer villas
Terminal thoughts...
The 7 day detox (and other dilemmas)