Living in 5* squalor - By Rebecca Wicks
I have for the past two weeks, been living in my friend's maid's room, in her spacious villa in Satwa. It's a great compound, everyone's friendly, and it doesn't even matter that I'm showering every morning in a foot-wide tiled square with no curtain, right next to the washing machine. The room in which I'm sleeping is still bigger than the one I rented in London for two years.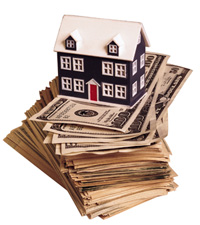 But you can't live for free here forever, unfortunately. I am but biding my time until the right place comes up, and this weekend, my pal 'P' and I will begin the dreaded search for a new abode, in the marina.
In case you're reading from afar, some of the places to rent in Dubai are incredible - huge rooms in villas and apartments with pools, gyms, balconies and private en-suite bathrooms - but more often than not, people want ridiculous deposits to move in. Ridiculous deposits. We're talking six months to a year's payment in advance.
I ask you, who the hell has that kind of money? Not a 28 year old Londoner, who's spent the years since graduating uni travelling the globe and replacing digital camera after laptop she's carelessly misplaced or had stolen, via another credit card payment. (And shopping).
When I asked a woman at my last job whether they had a policy of lending employees the money for things like this, in exchange for a monthly reduction in salary, her answer was: "Most people take the money from their savings, or borrow it from their parents".
This is the reply I wanted to write:
"Dear nice person I don't want to annoy because it's only my second week in the job,
Thank you for your reply as to how I might obtain a year's rent for a property in a city you've kindly expatriated me into and, consequently rendered homeless.
I've done some sums, and even with my limited mathematical capabilities, there seems to be no way around the fact that the amount I would need to have saved in order to move into a room at a monthly cost of 4,500 AED, is 54,000 AED.
At the current exchange rate, in pounds sterling, I would need to have instantly accessible almost £7,400.
Whilst this sounds ideal, I can assure you that had I clawed my way thus far up the slippery rungs of the media career ladder to your doorstep in Dubai, with that amount of free-flowing cash to spare, the likelihood of my needing to accept your job offer in the first place is slim to none. Also, asking my parents for a wad of cash equating to the entire annual sum of their small-town English lifestyle would seem, perhaps, a little like taking the mickey. After all, they gave me 50 quid to last the month when I moved out here.
This said, is there any way at all you could reconsider lending me some money?"
This is what I actually wrote:
"OK, thanks a lot, I'll reconsider my options."
Granted, I'm not in my last job anymore. Needless to say I figured out pretty darn quickly that I'd been given a raw deal. But my situation regarding finding and paying up front for a place to live hasn't got any easier. Our options are 'expensive', 'extortionate', or 'bedspace' - which back at uni would have been ideal… fun even. But somehow, a space in someone's bed, or even bedroom is slightly less appealing, ten years down the line. I rarely like to wake up next to someone I don't know, these days.
On top of that, I'm going to have to ask HSBC for a loan, which terrifies me. They've been reluctant to help me with anything since the time I was 18 and spent my entire student loan for the term in one week. Mostly in one pub.
I've lived in some hell-holes in my time (the most note-worthy being a warehouse apartment I shared in Brooklyn, with a bi-polar chick who had a penchant for naked roller-blading - true story, I'll tell you some time) and having come through it all with a modicum of dignity, I'm really hoping our quest for a decent place doesn't end in vain this weekend.
I'll keep you posted anyway.

Posted: 16 April 2008
More Info
Tell us what you think about this article. Email us here.
Who is Rebecca Wicks? Read about her.
Archive
Little Corn, Nicaragua - a world away from Dubai
Building a house in Costa Rica
The day I became a diver...
Chilling out in the desert – An Al Maha escape
Defining the meaning of Supper Club
Colour me good, with therapy....
The cost of living in pastures new....
If I was Paris Hilton's best friend....
Time flies, it's been fun, but....
My name Blackberry, er, ....
A tailor-made treat for the masses
Dive in movies and other summer hot stuff...
Getting down to business class
Petty crime and British pigs...
Superhero midgets, big clubs and Barsha...
The highs and lows of JBR Walk
A Weekend in Yemen...
Cat-woman and the solo living plan...
Totally Addicted To Twilight...
Confessions from a tech-widow...
Geese and guilt-free cookery...
The Friday Harbour brunch high
Cirque du Soleil – more than a trip to the circus
To tweet or not to tweet?
How to work the circuit (and leave)
Money and the monkeys...
Sofa, so good
Getting intimate with the Woman in Black
Hair today, gone tomorrow - Dubai's best kept style secret
Orphans and the hands of fate
England, Dubai and the theory of Pie
Fisherman's Friends, Fois Gras & The Harbour's new high
Solidarity, skyscrapers and a surprising lack of NY resolutions
A lazy, hazy Christmas at the orphanage
The 22 degrees of Christmas
Spinach, tigers and the invisible tarantula...
Raindrops keep falling on my head...
When is savoury sweet? When it's at the Westin...
The word on the street is... fireworks
Re-biting the Big Apple...
A Living Cat-astrophe
Squirrels, lumberjacks and kneecaps
The BBC - but not as you know it…
Beards of a Feather Flock Together
Round the clock bites and delights
Jolie-Pitts - paving the way for families?
The brunch bunch
What's bugging us?
The contest giving camels the hump
The cleaning man who never was
Come az*u*r and taste the organic side to Dubai
The 7 day detox (and other dilemmas)
Swimming with the fishes…
The frog and the impossible flat hunt…
High School and the make-believe grandfather
Observing the holy month
Living in 5* squalor
HONG KONG; from the Middle to the Far East
The horse and the not-so-mad Inventor
Mother Nature's Revenge
Indian Enlightenment
Lobster season's almost here…
What a difference a lunch-break makes…
Ten run away to the mountains...
Confessions of a nail-biter
Nakheel – Masters of 'The Universe'
When good public transport systems go bad
Dubai Dreams and the impossible boxing...
Plane talking...
Prelude to a punch up
The quake that rocked a nation…
Renting, ranting and the international flat-hunt…
Letting us in on The Secret
A Shock to "the system"
The greatest discovery of all
Theatrical flashbacks and forgotten dreams...
The killer villas
Terminal thoughts...
The 7 day detox (and other dilemmas)