The horse and the not-so-mad Inventor - By Rebecca Wicks
It seems like ages ago that 'T' and I moved into the Iransion. New to Dubai we really didn't have a clue how to handle the mad inventor with his weird horse-powered contraption on the driveway. Almost a year ago, I was writing facebook note after facebook note about his shenanigans, captivating my friends back home with tales of life on his landing.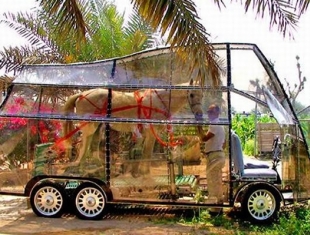 We figured it would be cheaper to share a room for a while, until we got used to this strange new city. So we found ourselves there, living above him in a tiny room in his Jumeirah villa, sleeping in tiny single beds that looked like chocolate biscuits, thanks to the brown and yellow matching comforters he kindly bought prior to our arrival.
He also put pictures of children on the walls of our room, and on the door. We were never sure why. We didn't even know the children and neither did he. We took it as a random act of kindness, as we did the telly, which couldn't actually receive any channels.
Of course, it was the naturmobil that intrigued us the most. You may have seen it in the newspapers this week, if you live in Dubai. It sat, looming large on the driveway below our bedroom, like a greenhouse on wheels. One day, he tried to convince us to help him take his invention to America, where he'd become an eco-warrior, a megastar, maybe.
We politely declined. We just wanted to go hit the town; make friends, meet people, have a good time. Banishing a weird contraption that blocked the path to the doorway when we staggered home each night to foreign shores, might well have been tempting, but it wasn't part of our master plan. Bit of a shame, really, in retrospect.
He's only a frickin' media star now. He called me a few weeks ago - wanted me to re-write his website. I met him yesterday, on the street outside my office. He pulled up in a flashy red car and crossed the street, grinning from behind mammoth designer shades. He slipped me some cash for my help and told me I must have been regretting my decision not to join him in his venture all those months ago. He then told me he had to run because he was late for another newspaper interview.
He's really changed.
The next day, 7 Days printed the interview - only unfortunately, it related the opinion of a vet, who deemed his horse powered contraption "sick". I received a text from the inventor. He asked me whether the article was "against me or not".
I didn't really know what to say. The dude has been asked to exhibit his invention in America, where they think it's kind of cool - perhaps even useful. Maybe he wasn't such a "mad inventor" after all - he was just in the wrong place. Maybe American people will welcome him with open arms and he can find some new, impressionable yet slightly less cynical ladies to live on his landing, appreciating his art and flickering static television. Maybe he'll become an eco-warrior, just like he planned.
Who am I to destroy his dream?
In the end I told him "I think you should call them"
The paper can deal with him now. I had two months of it last year, and quite frankly, that was enough for me.
Check out the articles online:
www.xpress4me.com/news/uae/dubai/20007183.html
www.7days.ae/en/2008/05/05/vet-bridles-at-truck.html

Posted: 08 May 2008
More Info
Tell us what you think about this article. Email us here.
Who is Rebecca Wicks? Read about her.
Archive
Little Corn, Nicaragua - a world away from Dubai
Building a house in Costa Rica
The day I became a diver...
Chilling out in the desert – An Al Maha escape
Defining the meaning of Supper Club
Colour me good, with therapy....
The cost of living in pastures new....
If I was Paris Hilton's best friend....
Time flies, it's been fun, but....
My name Blackberry, er, ....
A tailor-made treat for the masses
Dive in movies and other summer hot stuff...
Getting down to business class
Petty crime and British pigs...
Superhero midgets, big clubs and Barsha...
The highs and lows of JBR Walk
A Weekend in Yemen...
Cat-woman and the solo living plan...
Totally Addicted To Twilight...
Confessions from a tech-widow...
Geese and guilt-free cookery...
The Friday Harbour brunch high
Cirque du Soleil – more than a trip to the circus
To tweet or not to tweet?
How to work the circuit (and leave)
Money and the monkeys...
Sofa, so good
Getting intimate with the Woman in Black
Hair today, gone tomorrow - Dubai's best kept style secret
Orphans and the hands of fate
England, Dubai and the theory of Pie
Fisherman's Friends, Fois Gras & The Harbour's new high
Solidarity, skyscrapers and a surprising lack of NY resolutions
A lazy, hazy Christmas at the orphanage
The 22 degrees of Christmas
Spinach, tigers and the invisible tarantula...
Raindrops keep falling on my head...
When is savoury sweet? When it's at the Westin...
The word on the street is... fireworks
Re-biting the Big Apple...
A Living Cat-astrophe
Squirrels, lumberjacks and kneecaps
The BBC - but not as you know it…
Beards of a Feather Flock Together
Round the clock bites and delights
Jolie-Pitts - paving the way for families?
The brunch bunch
What's bugging us?
The contest giving camels the hump
The cleaning man who never was
Come az*u*r and taste the organic side to Dubai
The 7 day detox (and other dilemmas)
Swimming with the fishes…
The frog and the impossible flat hunt…
High School and the make-believe grandfather
Observing the holy month
Living in 5* squalor
HONG KONG; from the Middle to the Far East
The horse and the not-so-mad Inventor
Mother Nature's Revenge
Indian Enlightenment
Lobster season's almost here…
What a difference a lunch-break makes…
Ten run away to the mountains...
Confessions of a nail-biter
Nakheel – Masters of 'The Universe'
When good public transport systems go bad
Dubai Dreams and the impossible boxing...
Plane talking...
Prelude to a punch up
The quake that rocked a nation…
Renting, ranting and the international flat-hunt…
Letting us in on The Secret
A Shock to "the system"
The greatest discovery of all
Theatrical flashbacks and forgotten dreams...
The killer villas
Terminal thoughts...
The 7 day detox (and other dilemmas)